Colombian farmers protest against government's 'broken promises'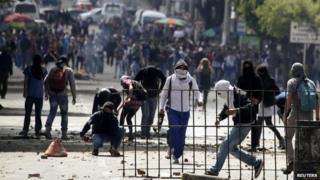 Thousands of Colombian farmers have been taking part in protests across the country to demand that the government comply with reforms agreed last year.
Security has been reinforced in the main coffee, rice and potato producing areas.
Protesting farmers say the government has failed to implement measures to reduce debt and control the prices of fertilisers.
An agreement last August followed weeks of violent protests.
The Colombian government says the reforms are being introduced, but some of them are long-term measures.
"It's a national day of protests by farmers across Colombia," Victor Correa, spokesman for the Dignidad Cafetero coffee growers' protest movement, told Reuters.
The authorities said a heavy police and army presence had prevented the protesters from setting up road blocks.
But local media reported that roads had been blocked in Boyaca department and in the coffee-producing region of Huila.
In the capital, Bogota, students took to the streets to support the farmers' movements. Some groups smashed shop windows and clashed with police.
But Interior Minister Aurelio Iragorri said the protests were largely peaceful.
"In the rest of the country there have been some demonstrations by different sectors, all peaceful and without roadblocks," he said.
'Betrayal'
In August, the farmers said that the government's agricultural policies were driving them into bankruptcy.
They blamed free trade agreements with the European Union and the United States, which had recently come into force, for flooding the market with agricultural products at prices they were unable to match.
The farmers also complained that rising fuel and production costs had turned small-scale farming into a loss-making business.
The protest ended after the government announced measures - including better prices for agricultural products and more access to loans - to ease the pressure on farmers.
In December, farmers protested in Bogota accusing the government of breaching 72 of 88 points agreed.
One of the movement's leaders, Cesar Pachon, has now said that the famers were "betrayed by the government and by some individuals who are defending their own interests".
Defence Minister Juan Carlos Pinzon said Colombia's largest rebel group, the Farc, was encouraging the protest as part of a strategy to destabilise the government ahead of presidential elections on 25 May.
President Juan Manuel Santos is running for re-election.
The Farc is engaged in controversial peace talks with government delegates in Cuba, aimed at ending five decades of unrest.
A Farc spokesman denied the left-wing group's involvement in the protests, but said it supported the farmers' demands.