Colombia mine collapse 'kills three and traps up to 30'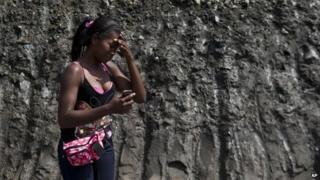 Colombia's authorities are trying to rescue up to 30 people trapped underground after a gold mine collapsed in the south-west of the country.
At least three miners were killed in the incident in the Cauca department.
It is not clear exactly how many people are underneath the rubble, as the mine was operating illegally.
Last Friday, four miners were killed and 65 affected by poisonous gases in another illegal mine in the Colombian north-west.
The governor of the Cauca department, Temistocles Ortega, said the accident in the gold mine took place shortly before midnight near Santander de Quilichao.
Illegal miners used machinery to open huge holes to extract gold, and a wall on one of them caved in, burying the miners, Mr Ortega told Associated Press news agency.
"So far, three bodies have been recovered and we don't know if there are more victims," he said.
Colombian media reports say thousands of tonnes of mud and stones cover the area and specially trained search dogs are looking for survivors.
Less than a week ago, four miners suffocated to death in another illegal gold mine in Antioquia.
Colombia has more than 10,000 operating mines, but many do not comply with regulations, authorities say.