Colombian president's campaign strategist Rendon quits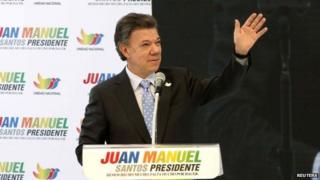 The strategist managing the re-election campaign of Colombian President Juan Manuel Santos has quit over allegations he was paid by drug lords to help negotiate their surrender.
Juan Jose Rendon said he had been approached by a number of crime bosses but denied taking any money.
The allegations emerged in the Colombian media just weeks before the presidential election.
President Santos himself has not been implicated in any wrongdoing.
The president said Mr Rendon's decision to resign was a "gallant" gesture to avoid distracting attention away from the campaign.
'Pay-off'
The scandal emerged on Saturday when news weekly Semana published testimony from jailed drug lord Javier Antonio Calle Serna alleging he had given Mr Rendon $12m (£7m).
Calle Serna said he had paid Mr Rendon to secure his help in arranging favourable terms for his surrender to the authorities.
Above all the drug lord - leader of Colombia's Rastrojos gang - wanted to prevent his extradition and that of three other traffickers to the US.
President Santos said Mr Rendon had relayed the traffickers' offer but stressed he believed the strategist's assurances that "he had not received one peso" in return.
Mr Rendon, a Venezuelan national, advised President Santos on his successful 2010 election campaign. He also worked on the 2012 campaign of the Mexican President Enrique Pena Nieto.
Drug lord
Calle Serna controlled much of the drug trafficking in the western Valle del Cauca province, as well as being involved in extortion and kidnapping.
After his failed attempt to negotiate his surrender in Colombia, he handed himself in to US Drug Enforcement Administration on the island of Aruba in 2012.
He was jailed in New York on drug trafficking charges.
Colombia's federal prosecutor said he would send investigators to New York to speak to Calle Serna after which he would decide whether to investigate Mr Rendon further.
The first round of Colombia's presidential election is due to be held on 25 May.
While polls suggest President Santos is unlikely to win enough votes to prevent a run-off, he is widely expected to make it through to the second round on 15 June.