Peru air force officer survives fall after parachute malfunction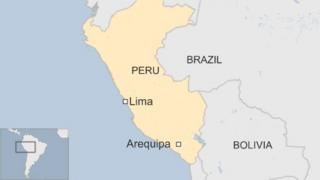 A Peruvian air force officer has survived a fall of about 1,500 metres (5,000 feet) after his parachute malfunctioned during an exercise.
Arnulfo Gamarra had jumped from a military plane in southern Peru on Tuesday as part of his training.
But when he opened his parachute, one of the cords failed to extend properly and became wrapped around his neck.
He lost consciousness and plunged to the ground, but survived, reportedly with only a twisted ankle.
The paratrooper was taken to a military hospital in the city of Arequipa after his fall.
"We did every medical examination on him and found no fractures," emergency room doctor Guillermo Pacheco told the AFP news agency.
"It's a miracle he's alive."
Peruvian media reported that the officer left hospital on Wednesday.
The air force said it had launched an investigation into the accident.