Venezuelan security forces break up protest camps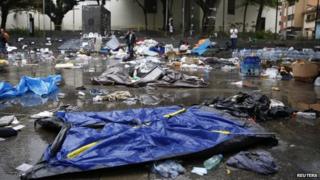 Venezuelan security forces have broken up a number of protest camps and arrested almost 250 people, officials said.
Interior Minister Miguel Rodriguez said four encampments in the eastern part of the capital, Caracas, had been cleared.
He said members of the National Guard had found "drugs, weapons, explosives and mortars" in the tents.
More than 40 people have died since anti-government protests began in early February and thousands more arrested.
Mr Rodriguez said 243 protesters had been detained and that the authorities were currently determining who to charge.
The minister alleged that protesters used the camps as bases to launch "violent attacks", after which they would "hide in the camps saying they were taking part in a peaceful protest".
The arrests come three days after the pressure group Human Rights Watch (HRW) accused the Venezuelan security forces of illegally detaining and abusing opposition protesters.
Mass deployment
The local mayor said that 700 military police officers were sent in to clear one camp alone.
Student leader Juan Requesens said protesters would not be deterred by the mass detentions.
"They'll have to build bigger cells, because we students will continue to fight for our rights," he wrote on the social network Twitter.
He also demanded that all of those detained be freed immediately.
Discontent
Anger about Venezuela's lack of security and high crime rates, as well as frustration with the country's poor economic situation have led to mass protests against the government over the past months.
Students have been at the forefront of the protests, erecting barricades and organising demonstrations and sit-ins.
The government has labelled the protesters "fascist agitators", accusing them of fomenting a coup against the left-wing government of President Nicolas Maduro "with US backing".
A total of 41 people, including anti-government activists, members of the security forces and government supporters, have been killed in incidents linked to the protests.
In a report published on Monday, HRW said that in some cases the security forces used torture, including threats of rape and execution.
The protests first started in early February triggered by rising inflation, shortages of some basic goods and a high crime rate.
The demonstrators blame President Maduro for "mismanaging" the economy of the oil-rich country and have said they will not cease protesting until he resigns.