Brazil World Cup: Worker killed in electrical accident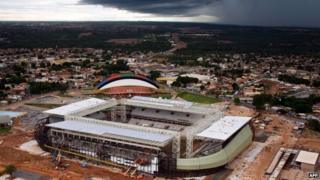 A worker has been killed after being electrocuted at a World Cup stadium in Brazil, officials say.
The 32-year-old man died in an accident at the new Arena Pantanal in the western city of Cuiaba where he was installing communications equipment.
It is the first fatality at the Cuiaba stadium, but eight workers have now died in accidents during the building of Brazil's 12 World Cup arenas.
Brazil's preparations have been marred by accidents and missed deadlines.
The Arena Pantanal is one of several stadiums still to be finished with just weeks to go before the World Cup begins, reports the BBC's Wyre Davies in Rio de Janeiro.
Thousands of seats are still to be installed and other vital work has to be completed, our correspondent says.
Last minute
The worker, Muhammad´Ali Maciel Afonso, died after he was hit by an electrical discharge on Thursday, while working on level 20 of the stadium, the regional government said in a statement.
A police investigation is under way into the cause of the accident, it said.
Jerome Valcke, secretary general of football's world governing body Fifa, said on Twitter: "Saddened by the death of worker Muhammad'Ali Maciel Afonso at Arena Pantanal today. My thoughts are with his family and colleagues."
Several of the 12 stadiums missed their end-of-year deadline to be ready and are being delivered to Fifa at the last minute, our correspondent says.
But local organisers have denied accusations of cutting corners and ignoring safety issues in order to get the job done.
A construction worker died in March after falling 25ft (8m) at the Sao Paulo stadium. In November, two workers were killed at the same stadium when a crane collapsed.
In February, a Portuguese man was hit by a crane part and died while working at the Arena Amazonia, in Manaus.
He became the third person to die in an accident at the north Brazilian stadium where England and Italy will start their World Cup campaign.
Another man died in the Mane Garrincha stadium, in the Brazilian capital, Brasilia, in 2012.
In the preparations for the 2010 World Cup in South Africa, two workers died.