Brazil border operation launched ahead of World Cup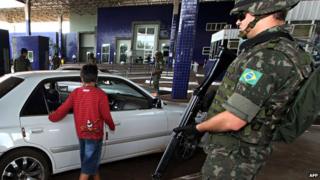 Brazil has begun a massive military operation to secure its lengthy borders ahead of next month's World Cup.
More than 30,000 troops from the army, navy and air force are taking part in what authorities said was Brazil's "single largest mobilisation ever".
There are still concerns over whether some venues for the tournament will be ready in time.
Authorities are also concerned about the recurrence of street protests against the cost of holding the event.
The border security operation – codename Agata – was first carried out in 2011 and usually takes place three times a year.
It targets illegal immigration as well as drugs and arms smuggling.
Troops also monitor rivers and lakes as part of their operations in Brazil's dense jungle.
They have not indicated when the operation will finish, but previous operations lasted between one and two weeks.
A border security operation mounted ahead of the Confederations Cup last year led to the seizure of almost 20 tonnes of drugs.
More than 600,000 tourists are expected to arrive in Brazil for this year's tournament, between 12 June and 13 July.
Security fears
Last month the BBC learned that Brazil had only trained 20% of the private security guards needed at the 12 stadiums at which matches will be played.
Authorities told the BBC that they would resort to using police or army personnel should the need arise.
No-fly zones will be enforced over stadiums during the 64 games.
In March, as part of an on-going project to drive drug gangs out of shanty towns, security forces cleared a favela near Rio airport.
The Mare slum is considered one of the most dangerous drug-trafficking areas in the city.
On Saturday, the stadium in which the opening game will be played hosted its first ever match.
Around 17,000 fans watched a friendly game at the Corinthians Arena, while workers continue to put the finishing touches to the stadium.
The official opening test for the venue is scheduled for next weekend.