Mexico begins swearing in former vigilantes for new Michoacan force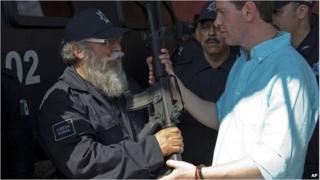 Mexico has started to swear in members of self-defence groups for its newly created rural police force, as part of a drive to disarm local vigilantes.
The move is designed to bring the militias fighting the Knights Templar drugs cartel in the western state of Michoacan under official control.
The vigilantes say they "cleaned" a number of towns before federal forces joined them in recent months.
But there have also been clashes among vigilantes and with police forces.
More than 3,000 people have registered guns and signed up for the new force, officials say.
But many refused to join, despite warnings that they would be arrested.
The Mexican government's deadline for registering the firearms expired on Saturday.
'Courage, valour and bravery'
An initial 240 self-defence group members marched in Tepacaltepec in their new blue uniforms, carrying state-issued guns.
The federal envoy to Michoacan, Alfredo Castillo, personally greeted the new members of the State Rural Force.
"Those who 15 months ago said 'Enough' and decided to confront those who did them harm - because of them today we have the State Rural Force that carries the same conviction of justice, of courage, valour, bravery needed to protect those, who we love the most, our families," Mr Castillo told the farmers.
The self-defence groups in Michoacan started an offensive against the Knights Templar drugs cartel more than a year ago.
Residents of Michoacan say the cartel terrorised them.
Local farmers, shop owners and other residents were victims of extortion, robbery and kidnappings.
Recent operations backed by federal reinforcements have seen the head of the Knights Templar cartel, Nazario Moreno Gonzales, shot dead and many of the group's leaders arrested.
The government subsequently called on the self-defence forces to stand down and leave the task of guaranteeing security to the state.
But some fear that might encourage a comeback from the cartel.
There have also been splits in some self-defence groups and the rise of fake vigilantes, correspondents say.
The government now wants the rural force to work alongside the police.
But it is still not clear how this is supposed to happen, with many vigilantes suspicious of what they see as police corruption.