Brazil to compensate rubber workers from World War Two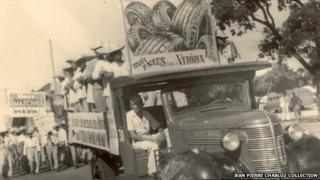 The Brazilian Congress has approved a plan to compensate workers sent to rubber plantations in the Amazon during World War Two.
Some 55,000 mostly poor Brazilians left for the rainforest to supply the United States with rubber used in making weapons and vehicles during the war.
The conditions in the Amazon were harsh and a large number of them died from malaria, hepatitis and yellow fever.
Some 6,000 survivors will now be paid in recognition of their wartime effort.
Seventy years on, the former workers, who are now in the 80s and 90s, will receive a one-off payment of 25,000 reais ($11,300, £6,700).
About 7,000 descendants of deceased workers will also be compensated.
'National heroes'
"Congress lives up to those who spent years of their life doing their national duty during the Second World War to help those who wanted to live in a free world," said Congressman Marcio Bittar.
Senator Anibal Diniz called the workers "national heroes" and urged the Brazilian planning ministry to pay them before the end of the year, the AFP news agency reported.
In 1943, the US turned to Brazil to provide a reliable source of rubber after the main rubber-producing country at the time, Malaysia, was occupied by Japan, an enemy to Allied forces.
Mostly impoverished Brazilians from the north-east joined their government recruitment campaign to look for what they thought would be a better life in the Amazon.
They became known as the "rubber soldiers".
But thousands of them died from tropical diseases and rampant violence, or from attacks by wild animals such as jaguars, alligators and snakes.