Brazilian prisoners release 122 hostages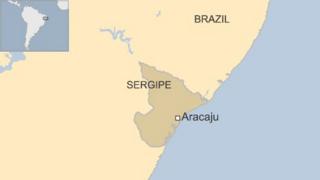 Prisoners at a maximum-security jail in north-eastern Brazil have released 122 hostages they had been holding since Saturday in Aracaju, the capital of the state of Sergipe.
Four prison officers and visiting prisoners' families were taken hostage during a riot on Saturday.
The inmates were demanding a transfer to prisons with better treatment and more flexible visiting hours.
Two prison officers suffered minor injuries during the ordeal.
"The rebellion is over. The guards and all the prisoners' relatives who were inside have been freed," a spokesman for the state's justice department told the French news agency AFP after 25 hours of negotiations.
Reports from Brazil say the authorities agreed to some of the prisoners' demands, and 16 inmates have been transferred to other jails.
The riot began on Saturday morning when inmates in one of the wings managed to make a hole in a wall.
They made it to the visiting room where other inmates were with their families, and took them hostage.
Police proceeded to isolate the ward to prevent the riot from spreading, and negotiations ensued.
The maximum-security jail in Aracaju holds nearly 500 prisoners.
Inmates at the same prison held 131 hostages in 2012 to demand a probe into alleged beatings by guards.