Haiti migrants risk sea journey for better prospects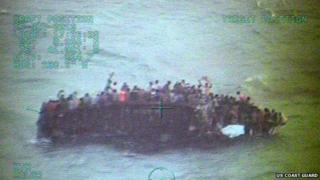 Every year thousands of Haitians risk their lives trying to make the perilous sea voyage from their country to one of its wealthier Caribbean neighbours in a bid for a better life.
They cram themselves into small boats which are often far from seaworthy. They run the risk of capsizing or being picked up by coastguard patrols.
Many feel this is their only option in a country which is not only the poorest in the western hemisphere but which was further destroyed by a devastating earthquake in 2010.
People from all over Haiti head to the north-west of the island to get onto these boats to leave their homeland, but most are from this impoverished region itself.
Chansolme is a typical market town in the area. Most people here practise subsistence farming, selling any plantains and root vegetables left over for a bit of extra profit.
They arrive in the town by donkey. Hundreds of the animals wait for their owners at the edge of town to take them on the long trek back to their rural homes.
Agriculture is the only source of income and with a lack of jobs in the area, many make the journey first to the port city of Port-de-Paix and then on to Tortuga Island, where they hope to catch a boat to take them abroad.
To get to Tortuga Island, you have to take a sailboat from the Haitian mainland. There is no jetty, burly sailors carry people on board on their backs.
The vessel's sail is tattered, there are no lifejackets on board and most of its passengers cannot swim.
The journey to Tortuga is a short one, but now imagine crossing the Caribbean Sea in a similar boat and you can picture the risks.
It can cost up to $1,500 (£900) to make the crossing to the Bahamas or the British Overseas Territory of the Turks and Caicos Islands.
Lucky to be alive
Harold Simon has made the crossing to the Bahamas three times, and was caught and deported each time.
"I thank God I'm not dead," he says.
"When you go up there, there's 300 to 400 people on the boat, there's no food and people die..
"It is crazy but you try to get a better life somewhere because there's nothing happening here, no money, no work," he says as he explains his determination to try, and try again.
The wages in the Bahamas are some of the highest in the Caribbean and the former British colony is seen as a less risky destination than sailing to the United States, which lies further north.
Boat captain Fiddler Lubin, 28, says there is no set price for taking someone to the Bahamas.
"It's based on how well you know them," he explains, saying that sometimes captains will even smuggle people on board their boats for free.
"Here, smuggling is a favour."
Cat and mouse
If the illegal migrants make it to their destination, they have to play a game of cat and mouse with the local authorities, but many do not even get that far.
It is estimated that hundreds have died over the years making the crossing.
On Christmas Day at least 18 people died when their boat capsized off the shores of the Turks and Caicos.
Others have died from starvation, or have even committed suicide on board.
"I saw people kill themselves," says Manu, an illegal migrant who was picked up by the authorities in Miami.
"One of them was on the edge of the boat and just jumped into the water, the two others did the same. I don't know why but they just jumped in and drowned," he recalls.
The obvious answer to stop such incidents from happening would seem to be to stop people getting on the boats in the first place.
But Tortuga Island Mayor Roland Joseph says he lacks the necessary staff to do so.
"We have one policeman for 45,000 inhabitants on the island and it's 27km (17 miles) long and 7km wide," he explains.
Lack of opportunity
The government has tried to halt the emigration by promising to increase opportunities. But creating jobs is not easy.
A programme by the International Organization for Migration (IOM) produced adverts to encourage people to stay at home and funded farming programmes, but it ended last year.
The IOM says it helped over 22,000 people in the Port-de-Paix area. But with three-quarters of Haiti's adult population still unemployed, the lure of emigration remains strong.
Claire Emmanuelle Pressoir of the IOM says they are trying to find donors to run another such programme, but in the meantime people keep dying at sea.
Ms Pressoir says that the fact that the boats that capsize are often small means that not a lot of attention is paid to the resulting loss of life.
"When they die one by one, it's not the same," she says bitterly, pointing out that the authorities often do not even have reliable figures about how many people may have been on board capsized vessels.
Without opportunities, every year thousands will continue to try to cross the Caribbean in search of better opportunities.
Hundreds will die, opting for the high stakes gamble that is the uncertainty of a perilous sea crossing over the poverty of their homeland.