Will Colombia pick hawk or dove in presidential polls?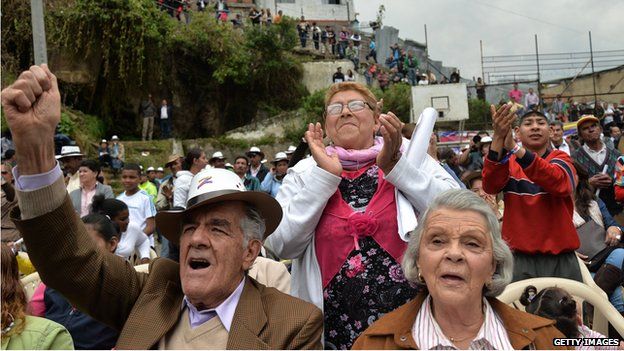 Colombians head to the polls on 15 June in the second round of a presidential election that could be crucial for the future of the country's peace process.
In the first round last month, the incumbent President Juan Manuel Santos won 25.69%, behind former Finance Minister Oscar Ivan Zuluaga, of ex-President Alvaro Uribe's right-wing party Democratic Centre, who won 29.25%.
In a poll on 30 April, Colombians listed their three main concerns as unemployment, health and security.
Nonetheless, President Santos's campaign has concentrated on the issue of security, namely the peace talks in Havana with left-wing guerrillas aimed at ending a 50-year insurgency that has cost thousands of lives.
Mr Santos told Colombian newspaper El Pais that the campaign's main decision was whether Colombia "wants to take that step forward to peace or step back towards war".
However, a recent announcement that substantial progress had been made in the Havana talks, coupled with the decision of the country's two largest rebel groups to call a unilateral ceasefire during the election period, is being seen as a two-edged sword for President Santos's election prospects.
Some observers feel it may be the boost he needs. Others argue that the ceasefire is a sign that the rebels support the president, and that that may drive voters to vote against Mr Santos.
What are Mr Zuluaga's views on the peace talks?
Mr Zuluaga is well known for his opposition to talks with the Farc (Revolutionary Armed Forces of Colombia).
During the first televised presidential debate at the end of April, he said that if he became president he would "suspend" the Havana talks and give the rebels "a week to decide on the cessation of all criminal action against Colombians", adding that this was the basic premise for the construction of a negotiated peace.
He has also promised a military crackdown on the rebels.
After two children were killed in a Farc attack on a police station on 14 May, Mr Zuluaga called on President Santos "to immediately walk away from the table in Havana".
However, recently he has said he would be willing to continue with the talks if the Farc agree to new, stricter conditions. But his opponents say those conditions are a way of driving the rebels away from talks.
Why has President Santos slipped in opinion polls?
President Santos's popularity has been slowly falling since December. An opinion poll in mid-May by Ipsos Napoleon Franco put him neck-and-neck with his rival. It had President Santos trailing Mr Zuluaga by one percentage point.
Analysts attribute the fall to various factors, including a lack of progress at the peace talks at the time of the poll.
One commentator in the El Tiempo daily said that President Santos had a reasonable record in power: "The economy is not doing too badly, unemployment is down, foreign investment and exports are up, poverty has decreased, and most - though not all - security indices have improved."
The problem, he argued, was the president himself.
"[He] has demonstrated that he is not a good leader and he changes opinions according to which way the wind blows. In his continual efforts to please everyone he has ended up displeasing most."
What is behind the allegations of dirty campaigning?
President Santos accused his rival of running a "criminal campaign" after a video emerged apparently showing Mr Zuluaga meeting a man recently arrested for cyber-espionage targeting the government talks with the Farc. Mr Zuluaga denied the allegations, saying the video had been tampered with.
A commentator in La Republica said the campaign of Mr Zuluaga, who has the backing of former president Alvaro Uribe, had been "repulsive". He said recent events had "revealed, unequivocally and manifestly, that the pro-Uribe quarter is intrinsically lacking in moral standards".
There was also a scandal in the Santos camp, when one of his election advisors was accused of taking money from drug traffickers to negotiate "favourable" terms for their surrender. The advisor denied the charges but resigned, saying he did not want to "harm the campaign of Dr Juan Manuel Santos".
BBC Monitoring reports and analyses news from TV, radio, web and print media around the world. For more reports from BBC Monitoring, click here. You can follow BBC Monitoring on Twitter and Facebook.
Related Internet Links
The BBC is not responsible for the content of external sites.