Brazilian corruption judge Joaquim Barbosa to retire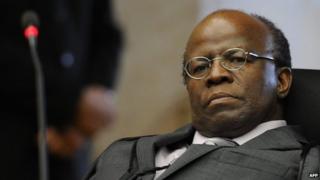 The judge who oversaw the biggest corruption trial in Brazilian history has announced he is stepping down as president of the Supreme Court.
In an unexpected decision, Joaquim Barbosa, 59, said he was taking early retirement for personal reasons.
In 2003, he had become the first black judge to be appointed to the Supreme Court, taking the top job in 2012.
He had been rumoured to be planning to run in October's general election.
However he has denied such claims and the deadline to run for the post of president has passed, says the BBC's Gary Duffy in Sao Paulo.
He will leave the Supreme Court at the end of June.
Announcing his retirement, Mr Barbosa told the court in Brasilia: "I was fortunate and privileged to be a member of this court in the its most prolific, its most important moment in the history of our country."
Judge Barbosa became a high-profile figure during the Mensalao corruption trial in which more than 20 people were convicted, including top politicians from the governing Workers' Party.
His stand during the 2012 trial make him hugely popular among many Brazilians, who praised his independence in the pursuit of justice.
Former President Luiz Inacio Lula da Silva and government supporters accused Mr Barbosa of bias against the Workers' Party and of using the trial as a platform to launch a career in politics.
Former President Lula and his successor, Dilma Rousseff, were not implicated in the case.
Typist and cleaner
Judge Joaquim Barbosa was born into a poor family in the remote town of Paracatu in the state of Minas Gerais.
He was educated in Brazil's much criticised state school system. He later moved to the capital, Brasilia, where he studied for a law degree at the city's best university.
To support himself through university, he worked as a typist and a cleaner in one of the city's courts, and later began a successful career as a public prosecutor.
In 2003, he became a household name when he was appointed by President Lula to the Supreme Court.
Black people rarely achieve high office in Brazil, despite the country having the world's largest black population after Nigeria.