Swedish footballer 'questioned at Argentina World Cup'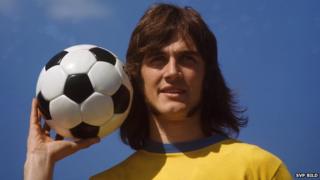 A Swedish international footballer has revealed that he was questioned by Argentine military men during the 1978 World Cup.
Ralf Edstrom told Radio Sweden that he was probably targeted by the secret services after a chance meeting with a local lawyer in a cafe.
The lawyer told him about the government's persecution of dissidents.
The tournament was played under the rule of Gen Jorge Videla, who was later convicted of human rights abuses.
Mr Edstrom said that he left the team's hotel for an evening walk on the eve of a group match against Austria in Buenos Aires.
Shortly after he was surrounded by armed men who ordered him to walk with them to a nearby building.
"I was questioned by a man who was wearing dark sunglasses and sitting by a desk," Mr Edstrom told Radio Sweden.
"My heart was beating strong, even though I kept telling myself that they would not dare do any harm to an international player during the World Cup."
He was released after showing his accreditation proving that he was a member of the Swedish football team.
'Difficult situation'
Mr Edstrom was one of Sweden's top players at the time, having played in the previous World Cup, in West Germany. The striker also played for Sweden's IFK Goteborg, Dutch side PSV and Monaco.
He said he only mentioned the incident to a few fellow players, but not to the manager or anyone else.
"I considered telling the story to the media at the time, but then I thought it was a very difficult situation, as we were in Argentina and in the middle of a World Cup," he said.
When asked by Radio Sweden to share his memories of the Swedish 78 campaign for a documentary, Mr Edstrom felt it was time to reveal the incident.
"I think it all happened because of that casual encounter in a cafe. I began talking to a man who was there and happened to be a lawyer.
"He started to cry as he told me about the violence that was going on in his country. We ended up hugging each other. Two days later, I was abducted because I had been seen with that man," said Mr Edstrom.
Gen Videla died last year in jail, serving a lengthy sentence for the deaths of 31 people during the 1976-83 military dictatorship.
Up to 30,000 people were tortured and killed during this period, in a campaign known as the "Dirty War".