Brazil's homeless protest against World Cup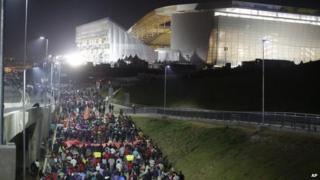 Thousands of homeless Brazilians have marched on the Corinthians Stadium in Sao Paulo, where the football World Cup is due to kick off next Thursday.
The activists from the Homeless Workers Movement were protesting against the high cost of the tournament.
The march - which was peaceful - came a day after President Dilma Rousseff said she would not allow violent protests to disrupt the World Cup.
She said the government would "fully guarantee people's security".
'World Cup excess'
An estimated 10,000 people took part in the march on Wednesday, which shut down one of Sao Paulo's main highways.
Demonstrators were demanding more government spending on health, education and subsidised transport.
Last year, more than a million people took to the streets of major Brazilian cities to vent their anger at what they see as excessive spending on the World Cup and the 2016 Olympics in Rio.
Some of those protests turned violent, and while recent marches have attracted far fewer numbers the government fears a repeat.
Extra security
On Tuesday, President Rousseff said that thousands of extra police and soldiers would be deployed to ensure that protests did not mar the World Cup.
More disruption is expected in Sao Paulo on Thursday as underground workers began an open-ended stoppage at midnight (04:00 GMT).
Traffic police said they would also go on strike on Thursday in Sao Paulo, one of the world's most congested cities.
Earlier this week, industrial action by the federal police force was averted after the government offered officers a 16% pay rise.
The World Cup will kick off on 12 June with a game between the hosts Brazil and Croatia.