Haiti police fire tear gas at anti-government protest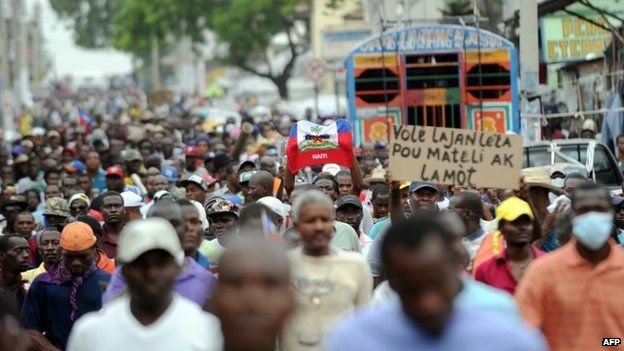 Thousands have marched in the streets of Haiti's capital demanding President Michel Martelly step down.
Police fired tear gas and broke up the crowd in Port-au-Prince. There were no reports of serious injuries.
Haiti has seen several anti-government protests in recent months amid growing anger over the cost of living and claims of high levels of corruption.
Mr Martelly won elections in 2011, pledging to help Haiti recover from the devastating 2010 earthquake.
One report estimated that 5,000 demonstrators took part in Thursday's march, some setting fire to tyres and barricading streets.
They demanded Mr Martelly resign and new elections be held. Some held signs demanding Canada, France and the US "help Haitians get rid of the leaders in power".
"We want elections but we are asking that President Martelly and Prime Minister Laurent Lamothe first step down," former senator Turneb Delpe said in quotes carried by the AFP news agency.
"The people do not trust these leaders to organise honest elections."
Mr Martelly, a former pop star, was elected in May 2011 with 68% of the vote and strong support from younger voters.
However, he has faced protests calling for his resignation since 2012.
Mr Martelly has denied the corruption allegations and says his government is tackling Haiti's economic and political problems.