Brazil Olympics: Rio bay 'will not be clean for 2016'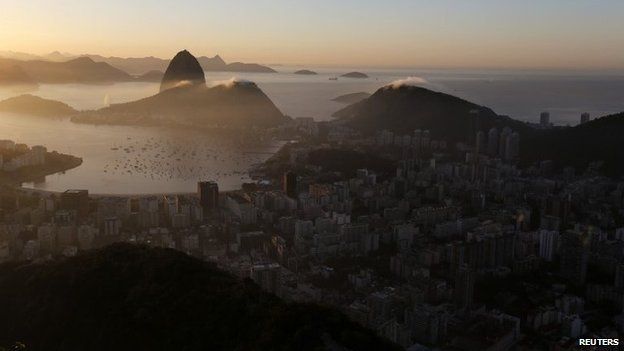 Rio de Janeiro Mayor Eduardo Paes has said that the Brazilian city will not be able to clean the polluted bay where Olympic sailing competitions will be held before the 2016 Games.
Brazil had made a commitment to reduce pollution in the Guanabara Bay by 80%.
But Mr Paes admitted that the target would not be met.
He regretted the missed opportunity but told the AP news agency that the pollution didn't pose a risk to the health of athletes.
Olympic sailors who visited Rio de Janeiro recently described the bay as an open sewer.
"I am sorry that we did not use the games to get Guanabara Bay completely clean," Mr Paes said during a conference in Rio.
Many in the city were sceptical from the beginning, after decades of broken promises to have the bay cleaned.
Greater Rio has a population of some 10 million people and millions of litres of untreated sewage are dumped in the bay every day.
Most people avoid bathing from the beautiful, albeit polluted beaches inside the bay.
But Mr Paes said that there would be no risk for the sailing teams competing in the Olympics, as the races will be held in a less polluted part of the bay.
And he insisted that Brazilians and cariocas (natives of Rio de Janeiro) will derive an important legacy both from the World Cup, which begins on Thursday, and the Olympics.
"People are not going to believe in everything we say. I think we have a problem with mistrust. This is a problem that we face from our history. There is a lot of mistrust in our capability of delivering things," Mr Paes said.