Circus employees in Mexico City protest over animal ban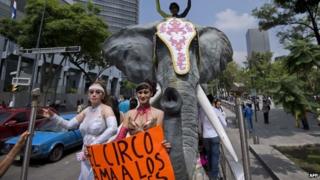 More than 1,000 acrobats, clowns and other circus employees have taken to the streets of Mexico City to protest against a ban on using animals.
The new law means lions, tigers, bears, horses and dogs will not be allowed to perform in circuses, but does not apply to dolphin shows or bullfighting.
The protesters say the legislation will leave humans and animals unemployed.
Supporters of the ban say factors such as constant training and transportation in sealed vehicles harm the animals.
"Hundreds of families are going to be out of work," said a clown, Julio Cesar Ramirez.
The president of the national circus association, Armando Cedeno, said the measure would affect about 50,000 circus employees and 3,000 to 3,500 animals.
``It is impossible to take these animals back to their natural habitat because they would die,'' Mr Cedeno said.
He added that the animals were treated well and that old stereotypes of an animal trainer with a whip in hand were outdated.
The law also bans the use of animals in advertisements, prizes, lotteries and many other activities which require what it describes as a change in the environment, feeding or natural instinct of the animals.
Penalties include fines ranging from $45,000 to $60,000.
The law follows similar moves in other Mexican cities, but does not apply to shows with dolphins or bullfighting, or to traditional rodeos.