Dani Alves: Brazil football star's humble roots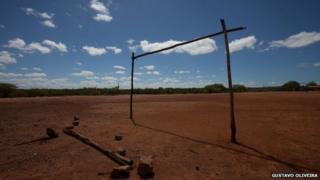 Football star Dani Alves hit the headlines earlier this year when he calmly took a bite of a banana thrown at him in a racist gesture by a rival fan.
The defender, who earns a reported $200,000 (£120,000) a week playing for Barcelona, has been chosen as one of Brazil's 23-man squad for the World Cup, but as Donna Bowater reports from his hometown of Juazeiro in north-eastern Brazil, his childhood was anything but luxurious.
Deep inside the Brazilian state of Bahia, in a remote clearing of parched, orange soil, there are just two monuments: at each end of the land, a simple goal made from branches tied at the corners.
The village is called Umbuzeiro, taking its name from the short trees with large canopies that surround the area, offering shade from the scorching sun.
Nearby, goats roam between a simple wooden cross, a well and the modest homes made of mud.
This is the earth that created Daniel Alves, the son of a farmer and now one of the 23 players hoping to carry Brazil to the World Cup final next month.
Football as relief
One of five children, Alves was born and raised deep in the countryside where football was a form of relief for families who spent their days working on the land.
"Daniel would have gone to work in the field carrying a machete on his shoulders," says Antonio Damiao Oliveira da Silva, who lives nearby.
"A lot of people here work the land. When people think of the north-east, they just think of dry land and poverty."
The 31-year-old defender is one of only a handful to make it from the north-east of Brazil, an often overlooked region that suffers lingering prejudice and under-investment.
Among the squad of players that represent Brazil in the World Cup, the majority come from the affluent southern states of Rio de Janeiro, Sao Paulo and Minas Gerais.
Indomitable spirit
But with an indomitable spirit inherited from his father Seu Domingos, Alves first left the countryside and then his home country to follow his dreams, and is now playing at Barcelona with stars including Lionel Messi and Neymar.
"From six, seven years old, he talked about playing in the World Cup. He said he would play in the Brazil team," said Alves's 53-year-old mother Dona Lucia at the family home in the nearby town of Juazeiro.
"He was an extrovert, playing and joking with everyone. At 10, he was playing in his dad's team.
"He never thought about staying there, where he was born and grew up. God had greater plans for him.
"For me, he's an example. He didn't look back. He said, 'I want to change my life, I want to change my parents' lives.'"
Local hero
His contemporaries in the area describe how Alves would take part in football championships between the rural communities, playing on the hard, dry ground cut through the plains of the region.
After first signing for Esporte Clube Bahia in the state capital of Salvador, he moved to Spain where he played for Sevilla.
Now, at his childhood home, where his aunt and her partner still live, a picture of Alves and his Barcelona teammates is tacked to the wall.
But despite sometimes facing difficulties, Alves's proud family said they wanted for little, even before his success.
"Four months after he moved to Sevilla, he gave me a house," Dona Lucia recalls.
She says that previously they had lived in the countryside. "We built our own home, it was tiny but it was ours.
"Thank the Lord, our victories are greater than our battles. Thank God, we never lacked the basics."
Rural roots
Despite Alves's success and keen interest in travelling, he still returns to his father's farm whenever he goes home.
Seu Domingos, who has worked in agriculture since he himself was a boy, grows coconuts, mangoes and passion fruit on his farm.
Banana incident
After Alves found himself in the spotlight when he ate a banana thrown at him during a Barcelona match at the end of April, Seu Domingos joked he might now start growing the fruit.
"To eat the banana, we thought it was a normal thing to do," he says of his son's gesture which prompted thousands of people to post pictures of themselves eating the fruit.
"But it wasn't funny," Seu Domingos says referring to the racist practice of hurling bananas at black players.
He says he was not surprised at his son's reaction. "Daniel was always a respectful character, as a man, as a parent and a son."
And when it comes to the pressure of delivering Brazil's sixth World Cup victory, on home soil, with high expectations, Alves's approach is the same.
"He's placid. He's very calm," his mother says.
Dona Lucia has no doubts about her son's potential. She says that he was "born a star, he was born to shine".
"Do you know what he said to me?", she asks as she reaches for her mobile phone to find a message from her son, sent some weeks ago.
"He says: 'We're going to win the World Cup for Seu Domingos.'"