Arrest warrant issued for Venezuelan opposition leaders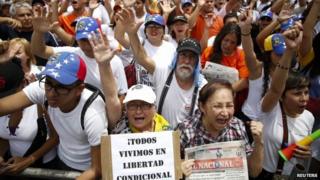 Venezuela's attorney general has issued arrest warrants against three prominent opposition leaders.
They are Diego Arria, a former presidential candidate and United Nations ambassador; Pedro Burelli, former external director of the state oil company Petroleos de Venezuela; and Ricardo Koesling, a lawyer who has been a strong critic of the government.
They are wanted for questioning in an alleged plot to assassinate President Nicolas Maduro.
"Groups outside the law have violent political plans," said Attorney General Luisa Ortega.
She said she would ask Interpol to issue international arrest warrants, as they may have left the country.
The attorney general's office said the three were not officially charged with participating in the alleged assassination plan, but they had failed to testify in an investigation of the plot.
Another opposition leader, former legislator Maria Corina Machado, has been accused of being the primary organiser of the alleged plot.
She has been called in to testify on 16 June.
Via Twitter, Mrs Machado scoffed at the accusations, calling them "infamy."
Mass protests have rocked Venezuela in recent months as hundreds of thousands of Venezuelans demand an end to extreme inflation, high crime rates and shortages of certain food staples.