Four people found murdered in Cuba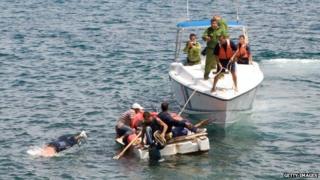 Cuba's interior ministry says it believes the killings of four people, whose bodies were found west of the capital, Havana, are linked to an attempt to leave the island illegally.
The ministry suggested there had been what it called "support from outside."
The BBC Havana correspondent Sarah Rainsford says this implies they were using traffickers to take them by boat to the United States.
Thousands of Cubans have left the island for the US since the revolution.
Six suspects have been arrested in connection with the discovery of the bodies.
Cuba very rarely reports violent crimes. So by making this multiple murder public, it looks as if the interior ministry is trying to discourage others tempted to flee by sea, especially those considering paying criminal gangs to transport them, our correspondent says.
Cubans are now allowed to leave the island without government permission but it is hard to get visas for most countries.
However, any Cuban who sets foot on American soil is entitled to stay there, so many take to the sea in the hope of reaching the US.
Last year, the US Coast Guard intercepted more than 1,300 Cubans trying to do that.
The number who made it to shore or who died trying is not known.
Day to day life for many in communist Cuba is still difficult, with small state salaries and minimal prospects for the future.
So some try to reach the US themselves in boats or on rafts, and others pay traffickers to take them.
Earlier this year one man arrived in the US on a windsurfer after four days at sea with just a bottle of water and a bag of sweets to sustain him.