Brazil opposition appoints Neves to challenge Rousseff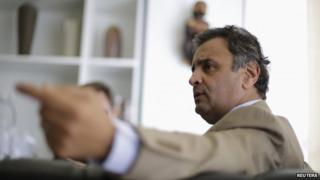 Brazil's main opposition Social Democracy Party has appointed centrist Senator Aecio Neves as its candidate in October's presidential elections.
Mr Neves has vowed to introduce pro-market measures to reduce inflation and boost economic growth.
Opinion polls suggest that he has about 20% poll ratings, against 40% for President Dilma Rousseff, who is running for a second term.
But he may pose the ruling Workers Party its biggest challenge since 2003.
Ms Rousseff's popularity has declined over the years, with Brazilians taking to the streets to protest against corruption and spending in the football World Cup and the 2016 Olympics.
She was elected four years ago, replacing her friend and mentor, President Luiz Inacio Lula da Silva, who served two terms.
Political heir
Mr Neves has criticised corruption in the Workers Party. He has also said he plans to cut public spending.
"Our government will create a more serene and propitious climate for the market, which is important to recover investments and grow," he told Reuters news agency.
Brazilians will go to the polls on 5 October. If no single candidate gets more than 50% of the vote, there will be a runoff on 26 October.
Mr Neves is the heir of a traditional family of politicians in central Minas Gerais state.
His grandfather, Tancredo Neves, was voted in by Congress as Brazil's first president after democracy was restored in 1985, but he died before being sworn in.