Has Brazil proved World Cup doubters wrong?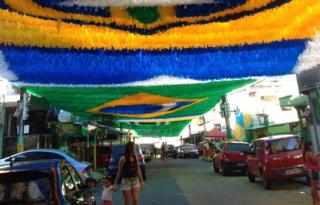 So far, so good.
The football has been entertaining and, at times, world class.
The refereeing has not always reached the same heights - but let's not blame Brazil for that.
The new stadiums, not ready until almost the last minute, look good and more importantly they have held up to the rigours of thousands of overseas fans descending on them, unable to speak Portuguese and in most cases coming to Brazil for the first time.
Unavoidable events notwithstanding - flooding in Natal for example - the official "fanfests" seem to be operating well, catering for the majority of fans who cannot get match tickets but want to experience that unique World Cup atmosphere.
Rumours that overzealous Fifa "suits" would clamp down on unofficial Brazilian street parties also seem to have been misplaced, or the public outcry that greeted such suggestions persuaded the killjoys to back down.
So, were all of us who have spent the last year reporting on the chaos, delays and arguments, wide off the mark? Has Brazil proved wrong all the doubters and critics who said this country was not ready to host an event of this magnitude?
Yes and no.
Striking
In the last-minute dash to finish the 12 stadiums, work on almost everything else that had been promised as part of the World Cup project has been allowed to lapse or has been completely downgraded.
In Manaus, for example, the Arena da Amazonia proved to be a wonderful sporting venue. I met the engineer in charge of the project, Miguel Capobiango, on a couple of occasions during the difficult last 12 months of building.
His vision of delivering an outstandingly striking complex, based on the design of an indigenous woven basket, has largely come true.
As night descended on the arena during England's clash with Italy on Saturday, the light shone out through the semi-transparent membrane that covers the steel structure and Manaus could be truly proud of its latest "theatre".
City and state officials scoff at critics who say the 44,000-seat arena will prove to be a costly white elephant in a remote, relatively small city that has no major football team to fill the cavernous space.
They point across town towards the magnificent, opulent Opera House. Built more than 100 years ago at the height of the city's rubber boom, it too, was decried as an expensive, extravagant luxury with fittings imported from Europe and no expense spared.
The Opera House is now considered one of the jewels in Brazil's crown.
Standing idle
The same officials who understandably crow about the new stadium are less inclined to explain why so much public infrastructure, promised when Manaus was chosen as a World Cup venue, simply has not materialised.
The city is growing and so are its urban problems.
What, as much as a new stadium, the people of Manaus needed was an efficient urban transport system.
That is also what was promised in the government's World Cup 'Matrix of Responsibilities', but has not been delivered.
The city's airport is being upgraded and modernised but it is not ready in time for the Cup.
Gleaming new check-in counters and baggage facilities stand idle, meaning that football fans returning south to Sao Paulo and Rio had to endure the slow, old, antiquated airport systems. Overflowing toilets and grim airside passenger services do not help, but Brazil's well-documented airport problems are nothing new.
A colleague of mine who was waiting for the same flight back to Rio took a glass-half-full attitude. Such problems do not really detract from the fans' World Cup experience and that, surely, is what matters, she argued.
Perhaps.
Yes, Brazil has a duty to put on a great football show in visitor-friendly stadia and make sure that, as far as possible, all that happens in a safe and entertaining environment.
But what about the government's "duty" to its own people?
Brutally put down
Surveys conducted just before the tournament began last week suggested that perhaps as much as half of the population did not think that, in the long run, the World Cup would be good for Brazil.
There is absolutely no question that most Brazilians will get behind their team and enjoy the daily feast of "futebol". But their support for the tournament, its organisers and the diminishing "public dividend" is less certain.
Manaus apart, I have not witnessed huge public outpourings of emotion and support for the Copa outside the stadiums.
Brazilian friends tell me that, in past tournaments, it was not like this. Streets would be full of colour and full of people. It is certainly not like that in Sao Paulo or Rio de Janeiro, not yet.
The street protests against the World Cup, that many had predicted, have not been as big as many had thought and where they have taken place they have not been allowed to disrupt the games in anyway whatsoever.
On the opening day in Sao Paulo, a relatively small and peaceful protest some 10km (6 miles) away from the Itaquerao Stadium was brutally put down by riot police. I know, I was there.
Batons flailing, throwing stun grenades indiscriminately and opening fire directly at demonstrators with rubber bullets, the security forces seemed to make a mockery of the authorities' promise that people would be allowed to protest.
The overwhelming intent, which clearly worked, was to crush any prospect that demonstrations against the amount of money spent on the World Cup would be allowed to overshadow Fifa's big day.
The protesters are, unquestionably, a tiny minority and, given the determination and resources of the state, the World Cup might well pass off largely trouble free.
It will not be over until Thiago Silva, Brazil's mercurial captain, lifts the World Cup trophy in Rio's Maracana - as he thinks he is destined to do - on 13 July.
There is a long way to go.
Until then, we will go on enjoying the great football in the wonderful - publicly funded - stadiums and thank the footballing gods how watching 22 guys kicking a bag of wind about could be such a pleasing spectacle.