Venezuela opposition politician Machado questioned over 'plot'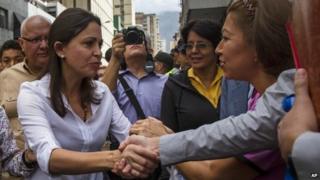 Venezuelan opposition politician Maria Corina Machado has been questioned in connection with an alleged plot to assassinate President Nicolas Maduro.
Ms Machado is accused of being the primary organiser of the plot, unveiled by government officials last month.
She denies the accusations and says emails attributed to her that called for Mr Maduro to be killed were fake.
Hundreds of Venezuelans have taken to the streets this year to protest against high inflation and crime.
At least 42 people have been killed at anti and pro-government demonstrations since the unrest began in February.
Some 3,000 have also been detained, human rights groups say.
'Solidarity of millions'
Ms Machado, a former member of parliament, says the government wants to "annihilate" her.
"I have the solidarity of millions of Venezuelans who refused to bow down," she told reporters outside the attorney general's office on Monday.
She was stripped off her mandate earlier this year by the government-controlled National Assembly.
The opposition blames failed left-wing government policies for the economic crisis.
Mr Maduro says right-wing groups in Venezuela and the United States have plotted to destabilise his government.
Last week, Venezuela's Attorney General Luisa Ortega issued arrest warrants against three prominent opposition leaders.
They are Diego Arria, a former presidential candidate and permanent representative to the United Nations; Pedro Burelli, a former external director of the state oil company Petroleos de Venezuela; and Ricardo Koesling, a lawyer who has been a strong critic of the government.
Ms Ortega's office said the three were not officially charged with participating in the alleged assassination plot, but they had failed to testify in an investigation.