Spanish prosecutors drop tax charges against Messi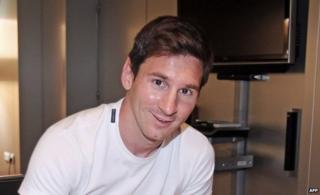 Prosecutors in Spain have asked a judge to drop charges of tax evasion against the Argentine football star, Lionel Messi.
They say Messi's father was responsible for his finances and not the Barcelona player.
Last year Messi appeared along with his father at a court in Spain to answer allegations that they defrauded the tax authorities of more than 4m euros.
The Messis have denied any wrongdoing.
In August they made a 5m euro "corrective payment", equal to the alleged unpaid tax plus interest.
Messi's father, Jorge, will remain under investigation. He has already assumed full responsibility for his son's tax situation.
"It is clear that Lionel A Messi did not participate in the decisions on the management and destiny of his income nor was he aware of the reach, dimension, purpose or impact of the structure of the holding (to avoid taxes)," said prosecutor Raquel Amado in a statement.
The Argentine footballer, four times Fifa World Player of the Year, and his father are suspected of using companies abroad - in Belize and Uruguay - to sell the rights to use Lionel Messi's image, thereby circumventing tax obligations in Spain.
The allegations date back to 2007-9.
The income related to Messi's image rights included contracts with Banco Sabadell, Danone, Adidas, Pepsi-Cola, Proctor and Gamble, and the Kuwait Food Company.