Mexico drugs war: Mass grave found in Veracruz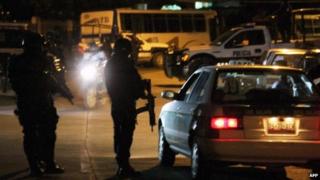 The authorities in Mexico have found more than 30 bodies in a mass grave in the eastern state of Veracruz.
There is no word on the cause of deaths and officials have warned that the number of corpses could rise.
The region has seen fierce fighting between rival drug gangs.
Thousands of Central American migrants pass through the state each year, heading to the US. Drug-related violence in Mexico has left more than 85,000 people dead since 2007.
A military official said the grave contained the bodies of 24 men and seven women. Earlier, prosecutors had put the figure at 28 bodies.
The grave was found after an anonymous call at a farm near the border with Oaxaca state.
Marines are guarding the area as investigators try to recover more bodies, and start the process of identifying those already unearthed.
In recent years, Mexican authorities have discovered several mass graves with hundreds of corpses of victims of the drug gangs who fight for control of territories useful to their trade.
The Gulf Cartel and the Zetas gang have been battling over the state of Veracruz.
Some mass graves have also been filled with the bodies of migrants killed after refusing to join the gangs.