Fifa probes 'homophobic chants' of Mexico World Cup fans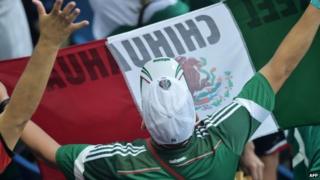 Football's world governing body Fifa has started disciplinary proceedings against Mexico after alleged homophobic chants by their fans during their World Cup match against Cameroon last Friday.
In a statement, Fifa said the inquiry was launched after what they called "improper conduct" by Mexican fans.
Fifa sources told the BBC they are also looking into alleged discrimination by fans from Brazil, Russia and Croatia.
Tough new rules to stop such offences were introduced by Fifa last year.
Fifa's anti-discrimination policy says a first offence by fans or players can be punished by having to play a game behind closed doors.
Subsequent or more serious offences can be punished by deducting points, relegation or expulsion from a competition.
Fifa officials say they also have evidence of banners belonging to a number of far right groups being displayed at Russia's game against South Korea and Croatia's match with Brazil.
Leading Fifa executives have repeatedly stated that financial sanctions have no deterrent effect.