England fans accept inevitable World Cup disappointment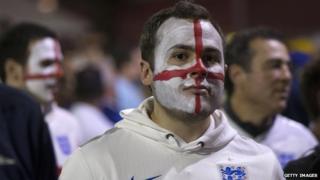 England are not the first team to face imminent exit from the 2014 World Cup but unlike Spain, England's poor showing has been much less of a surprise.
I spoke to several England fans as they trudged out of Sao Paulo's brand-new stadium but rather than anger the overwhelming feeling was resignation at the inevitable disappointment.
Although England is mathematically still in the tournament, few fans thought their team deserved to stay in. And having spent several thousand pounds to get here, those same fans will soon be heading home wondering if it was all worth it.
England supporters made plenty of noise inside the Itaqerao Stadium but they were outshouted and outnumbered by the Sky Blue fans of Uruguay.
Nemesis
Uruguay is a country of only three million (compared to about 50 million in England) but the self-belief and confidence of their fans in Sao Paulo were infectious.
Like their team on the pitch, England fans were almost resigned to their fate. Ironically, of course, it was a man who makes his living in England and plays alongside many of the England players who proved to be their nemesis here in Brazil.
The back and front pages of the visceral English press will make much of how Liverpool's Luis Suarez inevitably and almost poetically brought about England's downfall.
That is what being a football supporter is all about and when you are an England fan disappointment is very much part of the package.
These England players and supporters are unlikely to return to Brazil so (being on the verge of) going out after just a week of the World Cup must feel like very short change.
My team, Wales, has alas not qualified for a major football tournament for more than 50 years.
So while I am sorry that yet again another England World Cup campaign looks like ending prematurely, at least they were able to enjoy their Brazilian adventure while it lasted.