Fidel Castro's old limos reborn as Havana taxis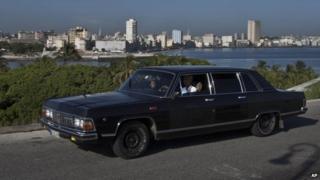 Like other leaders around the world, Cuba's Fidel Castro has had over the years several government limousines at his disposal.
But some of the older, Soviet-built presidential limousines have been decommissioned and reborn as Havana taxis.
The luxury cars can be seen on the streets of Havana carrying foreign tourists with a taste for history.
About 14 of these cars were passed on to Cubataxi five years ago.
One of the drivers, Moises Suarez, said the state-owned company still runs 10 of the cars.
"When I tell passengers where the car came from, they sit in the seat back there and stretch their legs and say, 'I can't believe it'," Mr Suarez told the Associated Press news agency.
The limos are Soviet-built GAZ and ZIL models made in the 1960s and 1970s, and were often used to ferry visiting dignitaries around the island.
But Fidel Castro himself reportedly preferred to use a military-style jeep for his personal use.