World Cup 2014: Brazil's tattooed players start national trend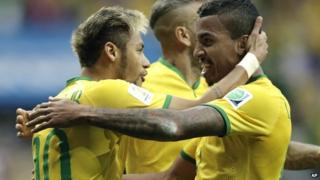 Whether or not they win the World Cup, the current squad of Brazilian players have already left their mark on a nation that scrutinises and emulates their every move.
The squad of players assembled by coach Luiz Felipe Scolari is widely regarded as the most heavily tattooed to represent Brazil at a World Cup.
Out of 23 players, 17 have tattoos on display - a trend that is quickly catching on among fanatical supporters.
Tattoo artists say requests for body art sported by Dani Alves, Marcelo, Neymar and their tattooed teammates has increased during the World Cup.
A devoted fan of Brazil's star striker, Neymar, Alessandro Corradini, 19, has copied five of his tattoos - all slightly modified and adapted by the same artist who inked the Brazilian player.
"I like Neymar's style, but my tattoos are personal. I don't think I will regret getting them," Mr Corradini told BBC Brasil.
"I've seen fans who have tattooed his name on their mouths and other crazy things. I'm a huge fan, but I'd never do that."
Son of an Italian father and a Brazilian mother, Mr Corradini discovered Neymar in 2010 when his mother took him to a Santos match - the club where Brazil's poster-boy made his name.
Mr Corradini went on to play football himself and is currently pursuing a professional career in Italy.
He is considering moving back to Brazil for good in order to be closer to his mother and to meet his idol. "It's my dream," he says. "We play in the same position, so I keep watching his videos, trying to mimic his moves and his goals. But it's not easy."
Sao Paulo tattoo artist Akemi Higashi, who has tattooed footballers, including Brazilian striker Alexandre Pato and Chilean midfielder Jorge Valdivia, says the increased popularity of tattoos among footballers comes from a desire to express "gratitude" through body art.
She also attributes the trend to the heavily tattooed David Beckham. "Footballers are still asking for shaded drawings, just like Beckham's," she says.
"Before him, you didn't really see tattoos on footballers. He opened the door."
As the fashion spread among footballers, social media further fuelled fans' desire to copy their idols' body art, according to Adao Rosa, Neymar's tattooist, who is based in Santos.
"It has certainly increased during the World Cup, but every time I tattoo a player who is in the spotlight like Neymar, I get emails from fans all over the country asking for that drawing. As soon as he posts it on Instagram, it becomes a trend."
Neymar also changed attitudes to tattooing in Brazil, according to Mr Rosa, particularly when he got a drawing of hands united in prayer with the word "faith".
"He broke a taboo, because he is so high profile," Mr Rosa says.
"When Neymar started getting tattoos, Brazilians still regarded it as something you did in prison.
"Now people know he is a good boy, a religious boy, so they like his tattoos."
Other Brazilian players also prefer religious motifs and tributes to family members.
"That started because usually they are young when they decide they want tattoos and their parents don't like the idea. So they get their parents' names tattooed on their bodies to put an end to their prejudice," Mr Rosa says.
Mr Corradini used the same strategy to convince his mother - tattooing her name on his body first. His other tattoos are based on those of his idol.
On the back of his left arm, Mr Rosa tattooed a cross with a crown and a parchment, similar to Neymar's.
Written on his drawing, however, are his own grandmother's name and date of birth. The word "blessed" - carried by Neymar on his back - came next.
"It was his idea but I've made it personal," says Mr Corradini. "The drawing was in tribute to my grandma. She is very religious and always tells me I'm blessed."