Colombia goalkeeper oldest World Cup player ever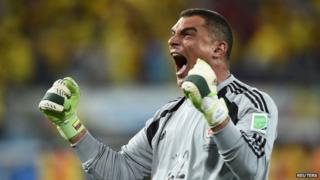 The Colombian goalkeeper Faryd Mondragon has become the oldest player ever to play in a World Cup match.
Mondragon came on as a substitute in the second half of Tuesday's match against Japan, which Colombia won by four goals to one.
He is just over 43 years old and was a member of Colombia's World Cup squads in 1994 and 1998.
Until now, the record for the oldest player was held by the former Cameroon striker Roger Milla.
Milla last played at the 1994 World Cup in the United States, when he was 42.
Though Mondragon first joined the Colombian squad for the 1994 World Cup, he did not play until 1998 in France. That team failed to make it to the knock-out stage.
With the exception of Milla, most veteran players have been goalkeepers.
Among them is Northern Ireland's Pat Jennings, who played at 41, the England goalkeeper Peter Shilton, who played at 40, and Italy's Dino Zoff.
Zoff is the oldest winner ever of the World Cup, which he earned as captain of the Italian team in the 1982 tournament in Spain, at the aged 40.