Argentine Vice-President Boudou charged in corruption case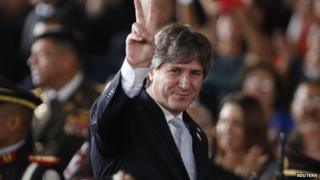 Argentine Vice-President Amado Boudou has been charged in a corruption case.
Mr Boudou is suspected of using his influence when he was economy minister to ensure that a contract to print Argentina's currency was awarded to a company he allegedly controlled.
Earlier this month, he was questioned for more than seven hours by a judge, in a closed-door court session.
If convicted, he faces up to six years in jail. He denies any wrongdoing and has rejected calls to step down.
The judge ruled that Mr Boudou would remain free while awaiting trial. Five other suspects have also been charged.
The case involves the Ciccone Calcografica printing company that has been under investigation for more than three years.
Mr Boudou is suspected of using a front man to buy the company when it filed for bankruptcy in 2010.
The company later received tax breaks to pay its debts.
It also published material used in the re-election campaign of President Cristina Fernandez de Kirchner in 2011.
Mr Boudou was once seen as a possible successor to President Fernandez.