Colombian rebels attack Arauca oil camp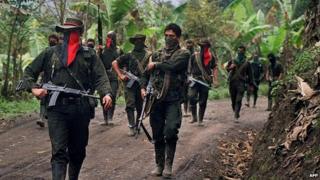 Thirteen oil workers and their relatives have been injured in a rebel attack on a camp in the north-eastern Colombian state of Arauca.
Two home-made explosive devices were thrown into the camp operated by Occidental Petroleum in Cano Limon.
The army blamed the attack on the left-wing National Liberation Army (ELN).
Oil pipelines are frequently targeted by the rebels, but Colombia's mining minister said it was the first time that a camp for workers had been hit.
The attack happened on Sunday afternoon as the workers and their relatives were getting ready to attend Mass.
One of the devices reportedly hit the television room and another the canteen.
No truce
The camp is 50km (30 miles) west of the city of Arauca.
State oil company Ecopetrol, which operates the Cano Limon pipeline, said it had been attacked three times in the past 10 days, restricting the transport of oil.
The ELN, Colombia's second largest guerrilla group, agreed earlier this month to engage in formal peace talks in an attempt to end its five-decades-long armed struggle.
However, neither side has agreed to a truce.
The government is also in negotiations with the Revolutionary Armed Forces of Colombia (Farc), the country's largest rebel group.
President Juan Manuel Santos has said he hopes to sign a final peace deal with the Farc by the end of the year.