Record floods in Brazil bring chaos to Amazon towns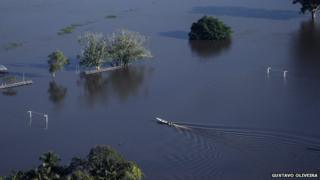 Instead of football players, crossing the pitch is a small motorboat and passing through the goalmouth is the overflowing Rio Negro river.
The goalposts stand half submerged, now meaningless markers on an invisible field.
For more than a month, Careiro da Varzea in the Brazilian state of Amazonas has been under water in one of the worst floods on record.
It is one of almost 40 areas in Amazonas in an emergency situation or a state of calamity affecting more than 300,000 people.
Water pours through wooden bungalows in river communities, standing stagnant on the floors of their homes, bringing waterborne diseases and making access difficult without a boat.
Since the end of last year, heavy rains have pushed the Rio Negro, which flows into the Amazon, to emergency levels.
Meanwhile, the biggest tributary of the Amazon, the Rio Madeira, reached record heights and caused the worst flooding for a century across more remote parts of north-west Brazil and northern Bolivia.
Experts say the water is expected to remain until the middle of July before eventually subsiding, leaving those who live on the river to rebuild their vulnerable homes.
"We consider a situation to be extreme when the river reaches the emergency level," explains Marco Antonio de Oliveira, who is the regional superintendent of the Brazilian Geological Service in Manaus, the capital of Amazonas.
"In this year's floods, the river reached emergency levels on 22 May. We have spent practically the whole of June above the emergency level.
"It's likely that this year, the time that the water has remained high and inside the homes of some of the poorest in Manaus will surpass 50 days."
The flooding of the Rio Negro has caused losses of more than $200 million real ($91m; £53m) so far - worse even than during the record floods of 2012.
From the air, it is possible to see whole swathes of towns on the banks of the Rio Negro marooned by the river.
And by boat, the damage to the homes is clear to spot.
Many communities living on the edge of Manaus, where streams known as igarapes weave their way from the river through the city, have been affected.
'Many people are suffering'
Neto Carvalho, 63, who has lived at the edge of an igarape for 20 years, filmed the worst of the flooding on his mobile phone.
"It started six months ago and it will take another six months for it to go down," he predicts.
"The water is very close. There's a lot of debris and we don't have any sanitation. The children who study on the other side [of the igarape] have to do a big detour to get to school.
"The federal government should do something. The promise was that people would be moved from here before the World Cup started. Many people are suffering."
A state initiative to re-home those living in houses built on stilts has resettled several thousand families since 2003.
But for those who remain, it is a matter of waiting until the water subsides before rebuilding their homes once again.
"Wood is expensive to buy but we're surviving," says Maria das Dores, 57, speaking on an improvised jetty from her home. "It's worse than usual."
Antonio Costa de Oliveira, 62, who lives with his 98-year-old mother, has laid broken doors and dismantled crates over his floor as a makeshift bridge through his home.
He points to a grimy mark on the wall, about 1m (3.2ft) above the current water level.
"It rose up to here," he says. "And this is dirty water."
Fear of disease
Flooding in urban areas where the streams are contaminated brings not only economic damage but also social problems including disease.
More than 60 people have died in Bolivia as a result of the floods, and in Brazil there have been deaths from bacterial infections such as leptospirosis.
"The population lives with polluted water for more than 30, 40 days inside their home and this has serious consequences for their health, especially for children," Mr Oliveira says.
There is debate over what has caused this year's flooding to be so severe.
Experts say extreme flooding normally happens in 10-year cycles but rivers have overflowed significantly every year for the last three years.
Prof Virgilio Viana of the Sustainable Amazonas Foundation says an unexpected change in weather systems means more water vapour and consequently more rain have stayed in the Amazon, causing river levels to rise.
"Science says that one of the clearest indicators as well as one of the clearest consequences of climate change is an increase in frequency of extreme weather events," he explains.
"And that's what we're seeing in the Amazon. We're having record floods almost every year and when we don't have a record flood, we have a record drought."
Prof Viana thinks a change in attitude is required and that the changes should be seen as "a warning sign from nature that we're not doing a good job".
While Prof Viana and colleagues lobby for a change in attitude towards climate change, the annual floods are quickly becoming a nightmare for residents.
"When the floods come, it's difficult. It's hard to leave for work. You wait for the bus and the bus can't pass," Celeste Oliveira Ferreira, 68, from Sao Jorge, said.
"And when it rains in the night, it's hard to sleep."