Colombia gives workers time off to watch World Cup match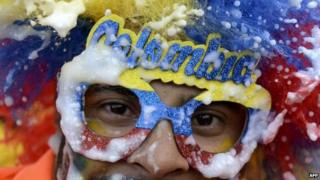 Colombian President Juan Manuel Santos has given government workers Friday afternoon off to watch the national team play Brazil in the quarter-finals of the football World Cup.
The president will fly to Brazil to watch the match played in Fortaleza.
The progress of Colombia to the quarter-finals has sent the country into a state of national euphoria.
But after a spike in domestic violence after Colombia's first win, the sale of alcohol will be banned on match day.
Historic first
The president decreed that Friday afternoon would be a "civic day" so that government workers could finish work at 13:00 and watch the match, due to kick off at 15:00 local time.
He said he would fly to Fortaleza in the morning, and fly back that same evening "following Colombia's victory".
Colombia has never before reached the World Cup quarterfinals.
Vice-President Angelino Garzon urged local government offices to also give their employees the afternoon off.
The mayor of Cali, Colombia's third largest city which is known as a place particularly fond of partying, said he would follow suit.
Perfect record
Colombia has won all four of the matches it has played during the World Cup, causing jubilation among its fans.
---
Colombia's World Cup performance
Colombia v Greece 3-0
Colombia v Ivory Coast 2-1
Colombia v Japan 4-1
Colombia v Uruguay 2-0
---
But police reported being called out almost 5,000 times during and after the opening match on 14 June, when Colombia beat Greece 3-0.
Nine people were killed in fights in the capital, Bogota, on that one night alone.
In response, many cities including Bogota, Cali and Cucuta banned the sale of alcohol on the match days.
No foam
The number of violent incidents dropped significantly during the subsequent matches, police reported.
Owners of bars and off-licences have protested against the measure, which, they say, deprives them of considerable income.
The authorities in some cities including Cali have also banned people from carrying shaving foam and flour in public after police said the liberal throwing of both during celebrations sparked many fights.
If Colombia win they will face either France or Germany in the semi-final.