Brazilian police link Fifa official to World Cup ticket gang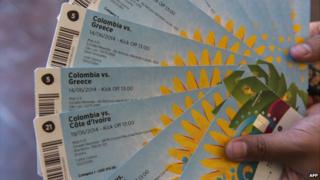 Police in Brazil say they have identified a Fifa official alleged to have been involved in the illegal sale of World Cup tickets.
Earlier this week, police said they had arrested 11 people and broken up an international gang.
The suspected touts are accused of illegally reselling tickets, including some originally allocated to players.
Police say the gang earned as much as $90m (£52m) per tournament and could have operated at four World Cups.
As part of the investigation, police said they had identified the first name of the alleged Fifa official from telephone calls.
Fabio Barucke, the investigator in charge of the case, said the official had clearance to Fifa offices, stadiums and other administrative areas where he would have access to match tickets.
The official, Mr Barucke said, is not Brazilian and is in the country only because of the current tournament.
"We are now calling for Fifa's assistance to help us identify this Fifa person," Mr Barucke added, saying the person was thought to be staying at a luxury hotel in Rio de Janeiro.
Fifa said in a statement on Thursday that it planned to analyse the resold tickets that had been seized by police and would assist Brazilian authorities in identifying their source.
Delia Fischer, a spokeswoman for football's world governing body, said it was yet to receive any information from police identifying the Fifa official who allegedly helped the ring.
She said that it was possible the person may not even be employed by Fifa since there were so many third parties that operate in and around the World Cup.
The BBC's Wyre Davies, in Rio de Janeiro, says police were reportedly investigating the gang's operations in Brazil for the last three months ahead of the raids.
Among items seized during the arrests earlier this week were 100 tickets, computers, US dollars, mobile phones and documents.
According to Mr Barucke, the suspects confessed to running the scam at four World Cups.
"The gang goes to the host country. It's possible that they only work during the World Cups as their profit is so large they can sit back in between Cups."
Those arrested could face charges of money laundering, criminal association and illegally selling tickets.