Polo goes back to basics in Jamaica
By Nick Davis
BBC News, Kingston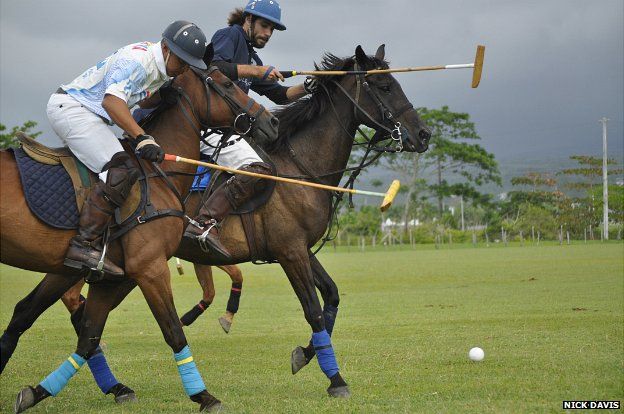 You won't find watch makers and luxury cars advertising their brands at polo matches in Jamaica - it is a much more relaxed affair.
At a polo field on Jamaica's north coast, the gates are open to all: tourists from a nearby hotel mingle with locals, one of Jamaica's top DJs plays a mix of family-friendly dancehall and electronic dance music, and the rum is flowing freely.
The game here feels nothing like it does in leading polo nations such as the US, Mexico, UK and Australia, where commercial sponsorship is key to the sport.
"We don't have a culture of patrons and pros… they can make you lose some of the connection with the game, some of the fun," says Jonathan Dougall.
He plays for the aptly named Chukka team - the name given to a period of play in polo.
His family timber business provides him with the time and money needed to play the sport.
"I've been doing this for eight years, and teams from all over the world come back here because of the atmosphere and the parties," he says.
It is a sentiment shared by visiting Nigerian pro Uneku Atawodi, the only black woman in the world playing professionally:
"Jamaica's naturally a lot more of a chilled-out country and that shows in all its sports. The people are really welcoming; it's family orientated but it's very competitive."
Jamaica's association with the sport goes back to the 1880s when this island was an outpost of the British Empire and home to a battalion of the West India Regiment.
A club was established so officers from the British Army on deployment could play the game.
But the island's equine history dates back even further, to the time of the Spanish colonisation.
Christopher Columbus carried livestock on board his vessels during his second voyage to the region, and horses were among the animals he took across the ocean.
By the 19th Century the island boasted the largest stud farm in the world - but the number of horses on the island soon dwindled as the car provided the transport of choice for the nobility.
Nowadays, it is an expensive pastime. The costs of feeding and training horses are considerable, meaning that many potential players cannot take up the sport.
However, there are places on the island which are trying to change this.
Down a dusty bumpy road with acres of sugar cane towering nearby is the Polo Club at Caymanas, one of the oldest surviving plantation estates in Jamaica.
The area is home to the island's horse racetrack and Kingston Polo Club.
"Canter on, don't pull back or he won't canter," shouts Lesley-Ann Masterton Fong Yee to a group of riders of varying ability.
She was one of the leading polo players in the world until injury made it impossible for her to compete. But her love for the ponies, as polo horses are referred to, remains as strong as ever.
She says she is still as comfortable on a pony as off one.
"Jamaica is one of the cheapest places to learn and play polo," she assures me.
"It remains a middle-class to upper-middle-class sport but in recent years the [horse] trainers employed by owners are becoming increasingly good players.
"They're being asked to play games [even though they] aren't from that background," she adds.
Kevin Hamilton is one such "player". He started working at the stables as a boy, mucking out the pony stalls.
Now he is not only breeding and training ponies for profit, he is also winning trophies.
But unlike Kevin Hamilton, most young Jamaicans will never own ponies.
But for boys like 15-year-old Kenrick Brown, it presents a welcome opportunity for work in a country where youth unemployment is at nearly 38%.
Kenrick gives instructions to a new trainee - 20-year-old Kevin who - at over 1.8m (6ft) - towers over his mentor.
Kenrick himself has only been looking after ponies for the last three months, but he says he has started to feel like an old hand.
"I'd love to play polo when I'm older but it's a big money sport," he says.
He is aware that ownership in his lifetime is unlikely, but getting to ride the ponies is one of the perks of his job.
But it is tough to make a living from the sport.
Sue Wates and her husband Mark operate a stables and riding school in Caymanas, employing 25 people.
"We're struggling, you can't do this sport here as a business - you have to love it to stay in it," she says.
"We have overdrafts and if people don't pay us, our staff have to go a week, two weeks without pay. It's not glamorous at all."
Sue looks after the operation while Mark works at a polo club in the US, so the money he makes there helps keep the business afloat.
The game needs new blood in Jamaica, and many hope to spur on a new generation of players.
John Masterton, better known as Doc, is Lesley-Ann's dad.
The veterinarian and veteran player competed for 65 years. Now 86, he is a legend in polo circles here.
"I'd love to but maybe not now," he says with a wink, after I asked him if he would have liked to have played against the younger riders at the event.
"It doesn't matter who you are or what you are, as long as you can play. When I first started it was a bit sticky, but now it's all-comers."