Argentina military officers convicted of bishop's murder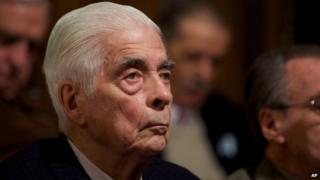 Two former senior military officers in Argentina have been convicted in connection with the murder of Bishop Enrique Angelelli in 1976.
Former army General Luciano Benjamin Menendez and former Vice-Commodore Luis Fernando Estrella were sentenced to life in prison.
Bishop Angelelli died in a car crash in the northern city of La Rioja shortly after the military seized power.
Officials insisted that his death was no more than a traffic accident.
But the case was reopened when a priest who had been travelling with the bishop said their car had been forced off the road.
Bishop Angelelli was a prominent left-leaning member of the clergy.
His car overturned just outside La Rioja in August 1976, a few months after the military began their campaign against suspected leftists.
The military authorities said he had died of his injuries.
But the priest Arturo Pinto, who was driving with the bishop, said they had been forced off the road.
It has been reported that Pope Francis, himself a former Argentine bishop, sent two secret documents that helped the prosecution.
One of them was a letter written by Bishop Angelelli to the papal nuncio a month before his death in which he said he was under threat.
The second document was the bishop's investigation into the murder of two priests and his suspicion that they had been killed by the military.
Some 30,000 people were killed during military rule in Argentina from 1976 to 1983.