El Salvador president opens residence as art gallery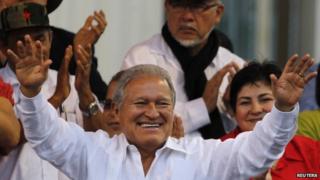 The new president of El Salvador has opened his official residence as an art gallery, welcoming what his office described as the socially excluded.
The president's office said visitors would be able to see Salvadoran art and reflect on the country's reality.
President Salvador Sanchez, a former left-wing rebel leader who took office a month ago, said the residence would be open every two weeks.
He said he would continue living at his private home during his term of office.
"The residence will become a space where we can share with those who have been excluded," said Mr Sanchez at the opening of the new gallery.
Among the first guests to his official residence were human rights activists and relatives of victims of the civil war in the 1980s and 1990s.
About 75,000 people died in the conflict between the US-backed government and the Farabundo Martí National Liberation Front (FMLN), a coalition of five left-wing rebel groups.
Mr Sanchez, 69, of the FMLN party, became the first former guerrilla to lead the Central American country.
On his inauguration on 1 June, he promised to fight corruption and violence, and to govern for everybody.
El Salvador remains violent and deeply divided despite the end of the civil war.
The country has one of the highest murder rates in the world, a problem largely blamed on gang violence.