Honduras suspends search for trapped gold miners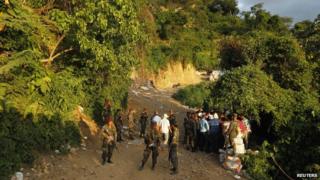 Authorities in Honduras have suspended the search for eight gold miners trapped in the south of the country since last Wednesday.
The entrance to the informal mine, located about 110km (70 miles) from the capital Tegucigalpa, was blocked by a landslide last week.
Three men were rescued two days later, but eight others are missing.
Rescue teams say the danger of further landslides makes it too risky for the search to continue.
'Poor practices'
"We definitely cannot risk more lives," said geologist Anibal Godoy, who is leading the effort near the town of El Corpus.
He said that there was no way of reaching the missing men inside the mine because "poor mining practices are collapsing tunnels".
Informal mines are common in Honduras and serious accidents are not unusual.
The mine is in an area prone to landslides and earthquakes.
The mayor of El Corpus, Luis Andres Rueda, said there were more than 50 informal mines in the area.
He estimated that hundreds of people use ladders to climb down into shafts as deep as 200m (656ft) every day.
Armed with pickaxes, they hack away at the tunnel walls to try to extract minute gold nuggets from the soil.