World Cup romance blossoms in Brazil - on and offline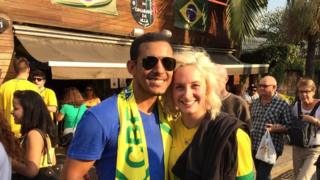 Brazilians' bitter disappointment at being humiliated in their record 7-1 defeat to Germany in Tuesday's semi-final has been tempered for some by blossoming World Cup romance.
And they are not alone among international fans who have met in Brazil during the tournament.
For one Brazilian woman, 25-year-old Beatriz Groxco, it has also come from the unlikeliest of places, after overcoming fierce historical local rivalry by meeting travelling Argentine fan Federico Astorga.
En route to Sao Paulo, the 27-year-old stopped off in Beatriz's home city of Curitiba, and the two clicked.
It was on the opening day of the tournament, 12 June, which was also Valentine's Day in Brazil. The two have been dating ever since.
"I was going downtown where there are lots of bars and I offered to help him get there too when he asked for directions," Beatriz says.
"Brazilians and Argentinians usually tease each other, but we quickly put that aside because we both love football."
In Rio, which many fans have chosen as their destination, Copacabana, where the fan fest is located, and Lapa, known for its effervescent nightlife, have become the preferred meeting places for Brazilians and travelling supporters.
There is also a fan fest in downtown Sao Paulo, but the bohemian Vila Madalena area, in the west of the city, is where the real parties have been happening.
During matches, its streets have been crowded and long after the final whistles were blown, it has resembled a re-run of Brazil's carnival - with the exception of Tuesday night, after Brazil's humbling by Germany.
In happier moment, however, such as Brazil's 2-1 quarter-final victory over Colombia, 70,000 people enjoyed the party spirit there.
And it was in Vila Madalena where Alejandro Yemes, a Venezuelan, and Danielle Voellinger, an American, met.
"We were introduced by a friend in common when we spent time studying in a city near Sao Paulo and agreed to meet again during the World Cup. It brought us together," says Alejandro.
Relationships have also blossomed online, as well as on the streets of Brazil during the World Cup, with dating apps experiencing a huge spike in usage.
Tinder, one of the most popular dating apps, reported a 50% increase in users in Brazil since the competition started.
"We expected an increase, but not that much," says Rosette Pambakian,of Tinder.
"Brazil has surpassed Australia and is now our third biggest market, just behind the United States and the United Kingdom."
Valentina (not her real name) a 33-year-old Brazilian, says she has been using Tinder during the World Cup because the tournament presents an "opportunity to meet people from all over the world".
"For me, it is not only about dating people. I like to help foreigners when they are in Brazil," she says.
"I tried to be a volunteer for the tournament. Since I didn't get to do that, I'm using this app."
So far she has met up with a Swiss visitor and an American. She preferred not to have her real name published because she feared people would think it was "promiscuous" to arrange dates using an app.
If some Brazilians are coy about admitting they have profiles on dating apps, their shyness is not so obvious online.
"I'm getting a lot more matches here than at home," says Clayton James, 22, who came to Brazil with three friends for the World Cup.
"My profile says I'm Canadian and that seems to attract a lot of Brazilian girls.
"One of the girls was more willing to meet than usual because she had never met someone from Canada before."
For Stuart Pennycook, a 25-year-old English fan who does not speak a word of Portuguese, the app presented a chance to navigate the language barrier with Brazilian women by simultaneously using an online translator.
When he was in Brasilia, Stuart went to a bar with a friend to meet a local woman and her friends.
"It was fun, but more awkward than I expected, after chatting to her beforehand. One of the girls told my friend he looked like Prince Charles, which upset him considerably. It turned out she actually meant Prince William, which is only slightly better," he said.
But technology doesn't solve all the problems.
"It's quite hard picking up shorthand on an online translator. It took me a long time to understand that when Brazilians type 'rsrsr' they mean they are laughing," Stuart says.
Dating apps have been used during the tournament by gay supporters, as well as straight fans. Grindr, a dating app for gay men, had a 31% increase in usage in Brazil during the World Cup.
"That doesn't surprise me", says Joel Simkahi, the app's founder. "There are more and more players coming out of the closet. So be it a fan or an athlete, there are gays among them."
Douglas Rodriguez, a 22-year-old from Porto Alegre, says that since the competition started, he has been going out "three of four times a week" with tourists he met on the app.
"I don't like to go out to clubs or bars so it is a convenient way to get to know other men," he says.
On these dates, he noticed a few differences about the way Brazilians and foreigners behave on Grindr.
"Brazilian men stall a lot and even ask for your driver's licence number before agreeing to go out. But, after that, they disappear," he says.
"Foreigners get directly to the point, but they are friendlier. They want to exchange phone numbers, connect on social media and often invite me to visit them in their countries. They seem less worried about what other people think of them."
Additional reporting by Stephen Fottrell and Camilla Costa.