World Cup final security: Brazil plans huge security op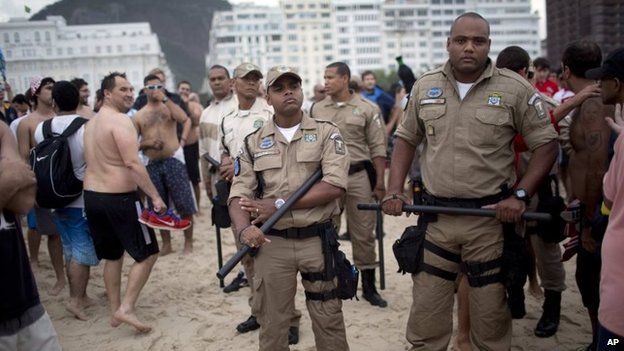 Brazilian authorities say they are planning Rio de Janeiro's largest ever security operation for the World Cup final on Sunday.
More than 25,000 security personnel will be deployed in the city for the tournament's final match between Germany and Argentina, officials say.
Heads of state, including German leader Angela Merkel and Russian President Vladimir Putin, will attend the match.
About 75,000 fans are expected to watch the final at Rio's Maracana stadium.
Police, soldiers and firefighters will be involved in security operations, and 25 ships are expected to monitor the city's coast.
"This will be the biggest security operation that the city or country has ever seen," senior local government official Jose Mariano Beltrane said.
"We need to ensure that this event goes off like all the other games in the World Cup... I prefer to have a large number of men ready than to be taken by surprise."
The number of security agents is equivalent to a third of all the football fans who will be watching the final inside the stadium, the BBC's Julia Carneiro in Rio de Janeiro reports.
Security will also be stronger in areas where thousands of Argentinians are gathering and camping out - city authorities expect up to 70,000 fans from the neighbouring country for the final, our correspondent adds.
"There is extra work as some heads of state and the president will be at the final game," army general Jamil Megid said in quotes carried by AP news agency.
Ms Merkel and Mr Putin are expected to have lunch with Brazilian leader Dilma Rousseff before heading to the match.
Russia will host the next tournament, in 2018.
The tournament's third-place playoff - between hosts Brazil and the Netherlands - takes place on Saturday evening in the capital Brasilia.
Ms Rousseff told reporters on Friday night that the World Cup so far had "eliminated the doubts" of everyone who believed Brazil could not host the event.
"We competently maintained peace and order, as well as having good airport administration among other successes," she said.
Earlier this year, Brazil came under criticism over late stadiums and infrastructure delays.
Demonstrators also held rallies against the tournament, expressing anger at how much the government spent on preparations for the World Cup and the Olympics, which Rio will host in 2016.