Mexico children's home: Probe into previous abuse claims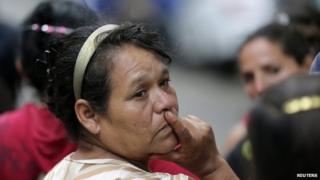 Mexican Attorney General Jesus Murillo Karam says his office is investigating previous allegations of abuse at a children's home in the city of Zamora.
The home, where more than 450 children lived, was raided on Tuesday after parents said their children were held against their will and abused.
Mr Murillo vowed to find out if and why previous complaints had not been probed thoroughly or had been dismissed.
He said fresh complaints about the home continued to come in.
'Rescue operation'
More than 70 families have demanded their children be handed back to them.
Police said they rescued 278 boys, 174 girls and six infants under the age of three from the House of the Big Family on Tuesday.
Officers said 138 adults aged up to 40 were also held at the facility in western Michoacan state.
The home's founder, Rosa del Carmen Verduzco, also known as Mama Rosa, and eight employees have been arrested. They deny any wrongdoing.
In a news conference, Mr Murillo said that so far, 12 children and adults from the home had given evidence.
One female resident described being forced to perform oral sex on a male staff member, who allegedly threatened to kill her and sell her organs if she did not comply.
Punishment
A male resident said he was hit in the face and locked up in a tiny room without food or water for long periods of time.
He said fellow residents would smuggle food to those locked up as punishment.
A woman told prosecutors she had been held at the home against her will since she was 18 and had been sexually abused by a staff member.
She alleges that when she became pregnant the father of her child beat her in the stomach causing an abortion.
Other residents said the dining hall smelled rancid and that they were fed "rotten fruit, mouldy bread and food infested with cockroaches".
String of allegations
The House of the Big Family has been operating for 40 years and was known locally as Mama Rosa's Home.
Local media had reported on allegations made against the home as far back as 2010.
Mr Murillo said his office would investigate what happened to previous complaints, if there was an investigation, or "if it did not merit official intervention at the time".
The BBC's Mexico correspondent, Will Grant, says the case has raised uncomfortable questions for the authorities, including why they had not acted sooner and whether corrupt officials may have kept the allegations secret.
But our correspondent says that the home's founder also has powerful backers who have expressed their continued support for Ms Verduzco on social media.
One of them is former Mexican President Vicente Fox (2000-2006), who wrote on Twitter: "Mama Rosa, my solidarity is with you, I know you're strong and I know of the good you've done for thousands of children and youths, keep your spirits up, I send you a big hug".
Some 250 supporters of Ms Verduzco have marched through the streets of Zamora, carrying banners that read: "I am also a son or daughter of Rosa".
They say she is not a criminal and is getting unfair treatment in the media.