Mexico home: Authorities begin transfer of children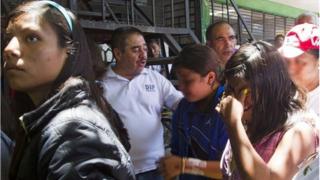 The authorities in the Mexican state of Michoacan say they have begun to transfer groups of children out of a children's home in the city of Zamora.
The home where more than 450 children lived was raided on Tuesday after parents said their children were living in appalling conditions.
The governor of Michoacan said 167 children had been transferred to homes in other states.
Families complained children were being held against their will and abused.
'Clean up operation'
Police said they rescued 278 boys, 174 girls and six infants under the age of three from the House of the Big Family on Tuesday.
Some are being transferred to homes elsewhere in the country, in Jalisco, Guanajuato, and Mexico states.
Officers said 138 adults aged up to 40 were also living at the facility .
Michoacan Governor Salvador Jara said they were investigating five allegations of unlawful imprisonment. He said he had visited the home along with local officials to see how a clean-up operation had been progressing.
Local newspaper reports said numerous trucks were seen leaving the home loaded with stinking rubbish. Reporters described whole rooms inside the home filled with brand-new equipment and new clothing donated by well-wishers and never used.
Instead, children had slept in crowded rubbish-strewn rooms rooms with no toilet facilities on steel cots with no mattresses. Some said they had been fed "rotten fruit, mouldy bread and food infested with cockroaches" from filthy kitchens.
'Complaints'
The home's founder, Rosa del Carmen Verduzco, also known as Mama Rosa, raised thousands of children in home.
She cultivated patrons among Mexico's political and intellectual elites, and was visited by presidents and renowned writers.
Last year, parents began complaining to authorities that they couldn't visit their children at the home. Residents told investigators of rapes, beatings and children held against their will for years.
Ms Verduzco, who is 79, is being treated in a hospital for high blood pressure and diabetes problems.
She denies any wrongdoing and the local prosecutor says she will be free to go and no arrest warrant has been served against her.