Venezuela Tower of David squatters evicted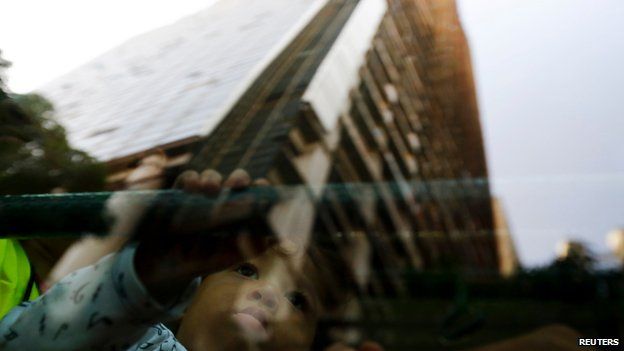 Venezuelan soldiers and officials have begun removing hundreds of families from a half-built 45-storey tower that dominates Caracas,
Correspondents say that the eviction of 3,000 squatters from the Tower of David is proceeding peacefully.
Those moving out are being provided with new homes south of Caracas.
Their eviction is part of the Great Housing Mission - a flagship policy of late leader Hugo Chavez intended to help the poor.
The policy was conceived to provide poorer families with better accommodation.
When it was first built, the Tower of David was meant to be a banking centre typifying the new, prosperous Venezuela.
But it has been abandoned since 1994 and has subsequently become a home to squatters.
It became so notorious that it featured in a recent series of US TV series Homeland - depicted as a crime-ridden place where gangs rule and drug use is rife.
The first evictions began on Tuesday morning.
"Necessity brought me here, and the tower gave me a good home," Yuraima Parra, 27, told Reuters news agency as she, her baby daughter and all their possessions were loaded into a truck.
"I was here for seven years. I'm going to miss it, but it's time to move on."
Ms Parra is part of an initial 160 families being moved out this week. In total more than 1,150 families will leave the tower.
Correspondents say that most of the tower's occupants are being taken to the town of Cua, south of Caracas,
Despite its image, residents say the tower - located in the centre of Caracas and sometimes known as the vertical slum - has recently become something of a model commune, defying its crime-ridden image.
Correspondents say that the tower block has beautiful views and is kept meticulously tidy by the inhabitants, with daily polished corridors, well-kept apartments, work schedules and even its own in-house rules.
But on the downside it is claimed people have fallen to their deaths from unprotected areas, there are no lifts, erratic water and power supplies and the block is often subjected to police raids.