Argentina polar bear 'too old' for Canada move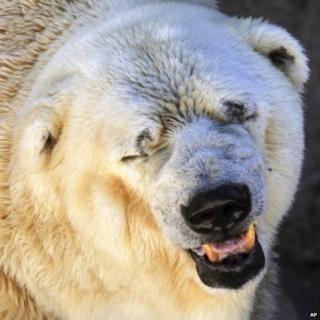 An elderly "depressed" polar bear is to stay in Argentina despite a petition to fly him to Canada.
The 28 year-old bear named Arturo was "too old" to be sedated and moved, said the director of Mendoza zoo.
The petition, posted on Change.org, asked Argentina's President Cristina Fernandez de Kirchner to allow Arturo to be moved to a colder climate.
A zoo in Winnipeg in Canada had offered to take Arturo and said it was not part of the Argentine zoo's decision.
Arturo is said to suffer from depression. His partner Pelusa died of cancer two years ago.
The director of Mendoza zoo in western Argentina, Gustavo Pronotto, said that moving him would be a risk.
"Arturo is close to his caretakers,"' Mr Pronotto told Associated Press news agency. "We just want everyone to stop bothering the bear."
A panel of vets in Argentina also decided that keeping him in Argentina was the best option.
Temperatures in Mendoza can climb above 30C.
Environmental groups including Greenpeace have argued that it is risky to keep polar bears in such a climate.
The last polar bear in the capital Buenos Aires died in 2012 during a heatwave.