Colombian army kills ELN rebels in Arauca province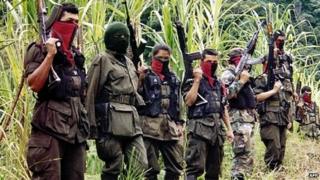 The Colombian armed forces say they have killed eight rebels from the left-wing National Liberation Army (ELN) in the east of the country.
The air force and federal police took part in the operation, which targeted rebel bases in Arauca province.
Another eight rebels were arrested in the raid.
The Colombian authorities say the ELN is behind a recent wave of attacks against innocent civilians and infrastructure.
The government blamed the group for an attack on an oil camp in Arauca three weeks ago, which injured 13 workers and their relatives.
The camp is operated by Occidental Petroleum in Cano Limon, some 50km (30 miles) west of the provincial capital, the city of Arauca.
The ELN operates mainly in areas close to the Venezuelan border.
Peace talks
In a separate development, Colombian armed forces killed five rebels from the largest rebel group, the Farc, according to the AFP news agency.
The operation took place in central Meta province.
The Farc has been engaged in peace talks with government negotiators since November 2013.
The prospect of a peace deal with the Farc by the end of the year has played a key role in the election of President Juan Manuel Santos to a second term, starting on 7 August.
The ELN - Colombia's second biggest rebel group - agreed earlier last month to engage in formal peace talks in an attempt to end its five-decades-long armed struggle.
But clashes between the rebels and the army are thought likely to continue until a final agreement is signed.
The Colombian government has rejected several calls by the Farc for a ceasefire, saying it would only enable the guerrillas to rearm and regroup.