Mexico charges six over Michoacan children's home abuse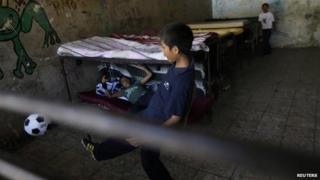 A federal judge in Mexico has charged six employees of a children's home raided by police last week.
More than 450 children and teenagers were rescued from the The Big Family Home, where they had been living in appalling conditions.
Prosecutors believe some of the children were subjected to beatings and sexual abuse.
The owner of the home, 79-year-old Rosa Verduzco, has been deemed too old and mentally unfit to stand trial.
The six employees - five men and a woman - were charged with criminal association, abduction and human trafficking.
Police raided the home in the city of Zamora on 15 July, after protests by parents that their children were being held against their will and abused.
Officers had found around 450 children living in appalling conditions.
Children had slept in crowded rubbish-strewn rooms rooms with no toilet facilities on steel cots with no mattresses.
Some said they had been fed "rotten fruit, mouldy bread and food infested with cockroaches" from filthy kitchens.
The children who were living at the home when it was raided are gradually being transferred to other shelters in Mexico.
'Two different worlds'
Ms Verduzco, also known as Mama Rosa, raised thousands of children in the home, in western Michoacan state over more than six decades.
She cultivated patrons among Mexico's political and intellectual elites, and was visited by presidents and renowned writers.
Ms Verduzco was hospitalized after the raid, suffering from high blood pressure and diabetes problems.
In an interview with Univision television this week, Ms Verduzco said she gave her life to save the lives of thousands of children.
Most of them were taken to the home with behavioural problems, having "killed someone or being involved in prostitution or drugs," and needed the tough discipline, she said.
Ms Verduzco said she ate the same food as the children.
"We live in two different worlds. Those who have lots of money think that drinking juice that has passed its sell-by date is something really bad.
"But I have been eating like that for 80 years," she told Univision.
Ms Verduzco admitted that she lost control of the management of the home as she got older.
"I lost my strength and there were things I could no longer watch. For that, I ask the children: forgive me."