Mexico quake app firm SkyAlert sorry for false alarm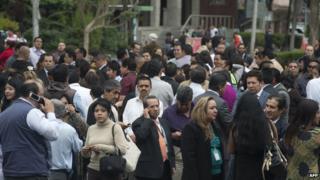 The Mexican company behind a mobile app which gives people a warning before an impending earthquake has apologised after it issued a false alarm.
Thousands of Mexico City residents evacuated buildings at noon on Monday after the SkyAlert app told them to prepare for "a quake within seconds" in their area.
SkyAlert said it was probing how the false alarm could have been triggered.
Mexico is prone to quakes. The latest hit eastern Veracruz state on Tuesday.
There were no immediate reports of any damages or injuries.
'Misinterpretation'
SkyAlert says it has satellite warning systems which allow it to alert people to quakes up to one minute before they happen.
At 12:16 local time on Monday it sent a message to users in Mexico City and central Mexico warning of a "strong earthquake", prompting thousands of workers to leave their offices and congregate in the streets.
After the quake failed to materialise, messages mocking the company soon spread on Twitter under the hashtag #noerasismo (it was not a quake).
They ranged from messages telling SkyAlert to "go home, you're clearly drunk" to "I demand that SkyAlert deliver the quake it promised or give me back my tranquillity".
Mexico City Mayor Miguel Angel Mancera tweeted that the quake alert had been sent by "an unofficial app" and that Mexico's National Seismological Service had not registered any quake during the time in question.
SkyAlert at first blamed Mexico's official seismic alert system, CIRES, for the false alert.
But after CIRES denied any responsibility, the company offered its "most sincere apologies for this unfortunate incident".
SkyAlert said that its system had "misinterpreted a message it had received from CIRES" and that it would take the necessary measures "to continue to improve our system".
Following the quake in Veracruz on Tuesday, Twitter users joked that SkyAlert had been right all along, giving an 18-hour warning instead of the usual 60 seconds.