Deal to stop migrants from boarding La Bestia train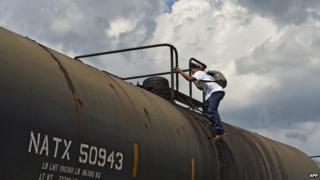 Guatemala, Mexico and the United States have reached a deal to try to prevent migrants from jumping onto a freight train in an attempt to reach the US, according to Guatemalan officials.
Tens of thousands of migrants stow away on the train, known as La Bestia (The Beast), every year.
Hundreds are injured or killed when they fall under its wheels. Many more are robbed or attacked by gangs.
The three countries said they would establish more checkpoints.
Rising flow
Guatemala's top immigration official, Alejandra Gordillo, said the deal was reached during meetings between Guatemalan President Otto Perez Molina, Mexican President Enrique Pena Nieto and US Vice President Joe Biden.
Mr Biden travelled to Central America last month to try to stem a growing flow of unaccompanied minors from the region to the US.
According to US Homeland Security, 52,000 unaccompanied children arrived on the US border with Mexico between October 2013 and 15 June 2014.
Risky rails
Many Central American migrants jump onto La Bestia on their way north, clinging perilously to its sides or sitting on its roof.
They are regularly targeted by criminal gangs, which rob them of their possessions or abduct them to force them to join their ranks.
Those who, exhausted, fall from its roof often lose limbs when they fall under the train's wheels.
Riding the train is illegal, but the authorities have found it hard to stop migrants from boarding it along its thousands of kilometres of tracks.
It is not clear how many checkpoints would be established as part of the deal.
La Bestia stops south of the US border, and migrants who make it that far still face a dangerous journey on foot through the desert or crossing by river.